COVID-19 Front Line Heroes: Amory Balucating, Nurse Anesthetist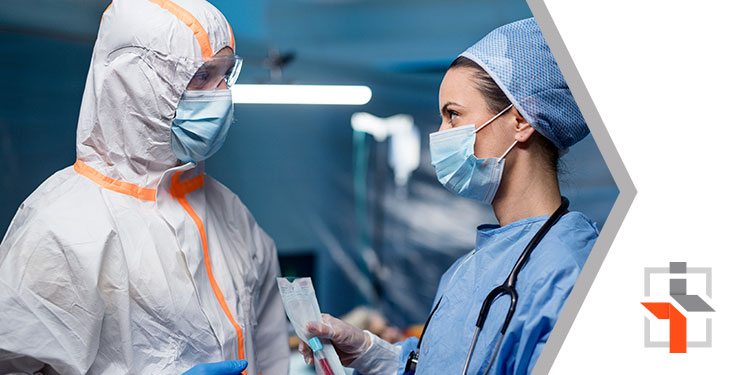 This week, you've heard from a Surgical Critical Care Physician, a Critical Care Nurse Practitioner, and today, you'll hear what it is like working through a pandemic as a Nurse Anesthetist. Nurse Anesthetists have many specific skills that are valuable to the healthcare team working within an ICU.
Amory Balucating, CRNA, was deployed to Long Island, New York just as the area was becoming a hotspot. He worked with critically ill patients for over a month, so we asked him to share with us what he learned during the experience.
What made you choose a career in your specialty?
I needed to elevate my practice and be able to use my clinical skills to make a difference in the military. As a bonus, it provides me financial security and pride in my contribution to the community's well being.
What do you like most about the specialty you chose?
Hands-on practice and advanced knowledge.
Why did you choose to work locum tenens assignments?
I was doing surveillance on the hospitals around me. I wanted to discover different anesthesia teams, facility dynamics, and the market.
What were the factors you considered when deciding whether to accept a position in a COVID-19 hotspot?
I found out where my skills were needed the most. The availability of PPE and the feasibility of travel and lodging were also considerations.
Can you tell me a little bit about the experience of working through a pandemic?
My experience on the East coast taught me about the plans in place to keep patients and the staff safe while SARS-CoV-2 was spreading. The staff welcomed me with open arms knowing that I was there to supplement their manpower. I arrived at the facility and introduced myself. As is expected during a disaster, there was some confusion about where they needed to send me for orientation. With patience and willingness to be flexible, I was assigned to my unit as part of the staff. I did notice that there were some grumblings about the working conditions. Instead of participating in the negativity, I tried to implore positivity and gave lots of compliments for being on the front lines. After two weeks in one facility, the work was slowing down. I was then asked to transfer to another facility. Again, there was a bit of confusion upon my arrival. Instead of becoming frustrated, I offered myself as available for whatever tasks were sent my way. In my experience of working through a disaster, I find it helpful to ask questions or ask for any administrative personnel as a starting point. Again, patience and flexibility go a long way to being successful.
Did you learn anything new from your experience?
I learned innovative steps to provide safe, efficient, and high-quality care while minimizing exposure to the virus. In addition, I learned to be comfortable donning on and off PPE.
Is there anything else you would like the Integrity Locums audience to know?
Participating in a disaster or pandemic, it is vital to keep ears open and frustration in check. Flexibility, patience, and open-mindedness help one to be able to sort through the rubbles of unorganized chaos to a more manageable situation. In the end, the staff and the community are the benefactors of our hard work.