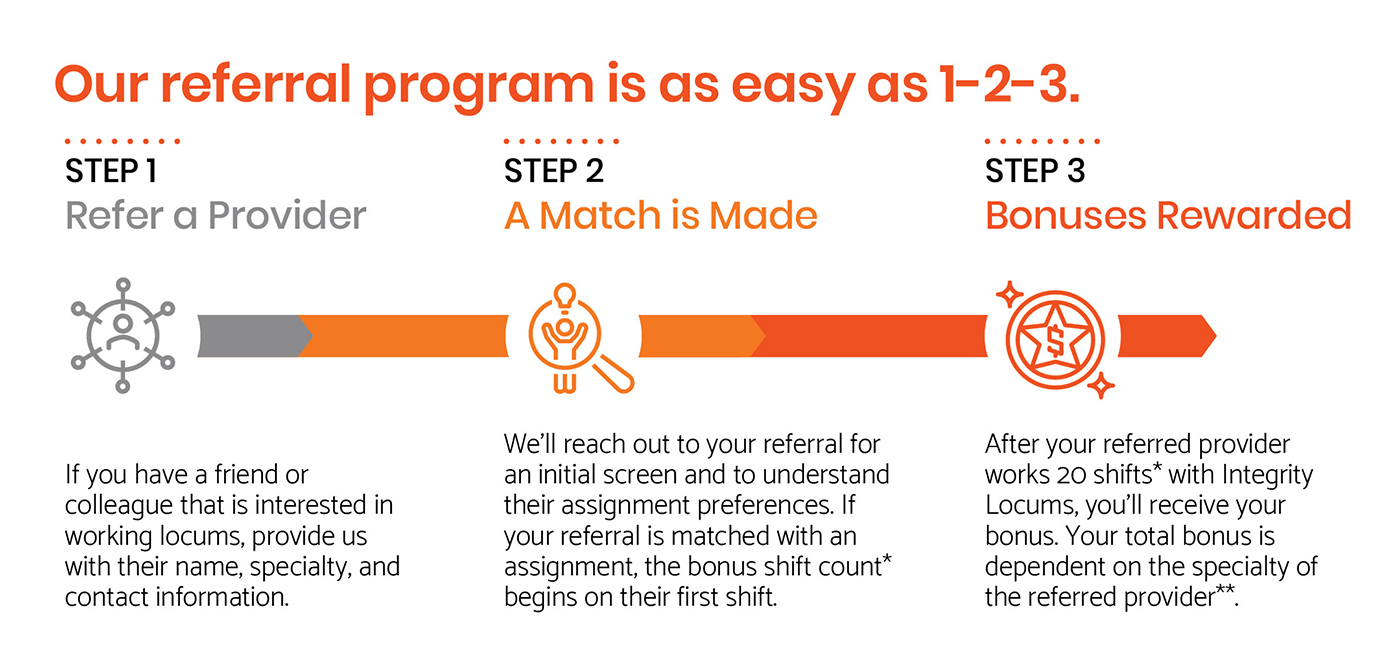 HOW DOES THE REFERRAL BONUS WORK?
Simply provide us with the name, specialty, and contact information of a candidate you feel would be a good fit for locums work. Our experienced consultants will contact them directly to help find the best career match for them.
WHAT WILL YOU RECEIVE?
You will receive a
bonus
for EVERY qualified referral that leads us to successfully filling a position (referral must work their first shift within six months of initial referral). It's that simple…there's no limit to how many referral dollars from Integrity Locums you can receive. Your referral bonus is awarded based on the specialty of the provider you referred.
Click here for a list of our referral bonuses
.
WHAT QUALIFIES A REFERRAL?
To qualify, you must refer a candidate we have not been actively working with in the last 6 months. If the candidate accepts a job and works their first shift within 6 months of the referral, you will be eligible for a referral payment check after the candidate completes 20 shifts with Integrity.

PAYMENT DETAILS
You must complete and return IRS Form W-9 and referral form in order to receive the referral bonus. This form will be supplied to you by Integrity Locums once your referred candidate has started their first assignment.
We will process the referral bonus approximately 30 days after the referred candidate completes the 20 shifts(mentioned above), and you have submitted the required paperwork.
Payments will be made by a company check from Integrity Locums.

©2023. All rights reserved.
Integrity Locums
Integrity Locums