Sun, Sand, and Stethoscopes: 4 Tips for a Rewarding Summer Assignment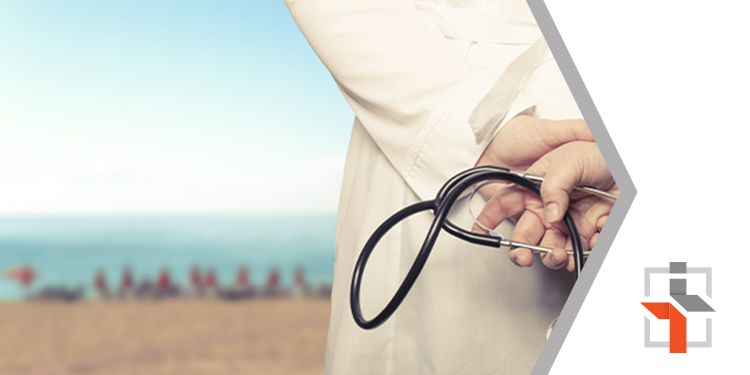 As a physician or advanced practice provider (APP), the summer season presents a golden opportunity to create lasting memories and enjoy quality time together. However, it can be challenging to find a professional path in medicine that offers enough freedom to fully embrace the season's joys.
Locum tenens work opens doors to exceptional flexibility, allowing you to structure your assignments around your needs and summer plans. By taking advantage of the increased flexibility, you can balance your professional responsibilities and maximize time with your loved ones during the summer months.
Continue reading to discover four ways to make the most of your summer with locum tenens assignments.
Adjust assignment load
The summer season offers an opportunity for locum tenens providers to adapt their workload to their preferences and priorities.
Whether you want to ramp up your assignments and earn more, or take a step back and enjoy a more relaxed schedule, here's how you can make the most of the summer:
Increasing assignments: If you're seeking to maximize your earning potential or gain valuable experience, the summer is an ideal time to take on additional locum tenens assignments as others are taking time off. Discuss your preferences with your consultant, who can help match you with suitable assignments to fulfill your goals.
Decreasing assignments: Conversely, if you want a more leisurely summer with space for relaxation, family time, or other interests, reducing the number of assignments can provide the flexibility you need. Communicate your desired schedule and availability to your consultant well in advance, so they can find assignments that align with your preferences.
Balancing work and play: Another option during the summer is to strike a balance between work and personal pursuits. Consider working part-time or alternating between periods of active assignments and scheduled time off. This approach lets you enjoy the benefits of locum tenens work while still having ample opportunity for rest, rejuvenation, and summer's seasonal activities.
Take breaks
The summer season is the perfect opportunity to take well-deserved breaks and fully immerse yourself in the surroundings of your assignments.
Whether you're in between assignments or have downtime during your current assignment, here's how you can make the most of the summer season to explore the area:
Plan strategic breaks: Schedule breaks between your locum tenens assignments in the summer. This allows you to recharge, spend quality time with loved ones, or embark on adventures in new locations. Coordinate with your consultant to plan your assignments strategically, ensuring you have designated periods for exploration and relaxation.
Embrace local exploration: When on assignment during the summer, take advantage of your time off to explore the area and immerse yourself in the local culture. Discover nearby attractions, scenic spots, parks, museums, or landmarks that make the location unique. Engage with the community, try regional cuisine, or participate in events or festivals. By taking the time to explore, you can create unforgettable memories and enrich your locum tenens experience.
Enjoy outdoor activities: With longer daylight hours and pleasant weather, summer offers ample opportunities for outdoor activities. Take advantage of nearby beaches, hiking trails, lakes, or parks for swimming, biking, or picnicking. These activities allow you to enjoy the natural beauty of your assignment location and promote overall well-being and work-life balance.
Include loved ones
During the summer, locum tenens assignments allow you to prioritize time with your loved ones.
Consider bringing your family or friends along for a getaway while on a locum tenens assignment. Many locations offer a wealth of attractions, scenic spots, and activities that can be enjoyed together.
Locum tenens assignments often take you to new locations with distinct cultures and traditions. Take advantage of this opportunity to expose your group to diverse experiences and broaden their horizons. Engage in cultural activities, visit museums, attend festivals, or explore historical sites. By immersing yourselves in the culture, you can foster a deeper appreciation for the unique aspects of the assignment location.
Your consultant can help you explore assignment opportunities in desirable vacation destinations where your family and friends can join you. Combining work and personal adventures helps you to make the most of your time together during the summer season.
Explore and enjoy
Locum tenens assignments during the summer season provide an excellent opportunity to explore.
Use your downtime during locum tenens assignments to discover and pursue hobbies that might not be readily available in your home location. Whether it's water sports, hiking, photography, painting, or culinary adventures, embrace the chance to explore new interests. Take advantage of the landscape and resources in your assignment area to indulge in activities that bring you joy and fulfillment.
Summer is also brimming with festivals and cultural events. Take advantage and immerse yourself in the local festivities and experience the vibrant atmosphere of summer celebrations. Attend music festivals, art exhibitions, food fairs, or outdoor concerts to savor the essence of the community and its cultural offerings. Engaging in these activities lets you connect with people, create lasting memories, and appreciate the richness of the assignment location.
Are you ready to find your next locum tenens assignment? Our expert consultants are here to help — contact us today!