Top Five States to Take a Locums Assignment if You Love Hiking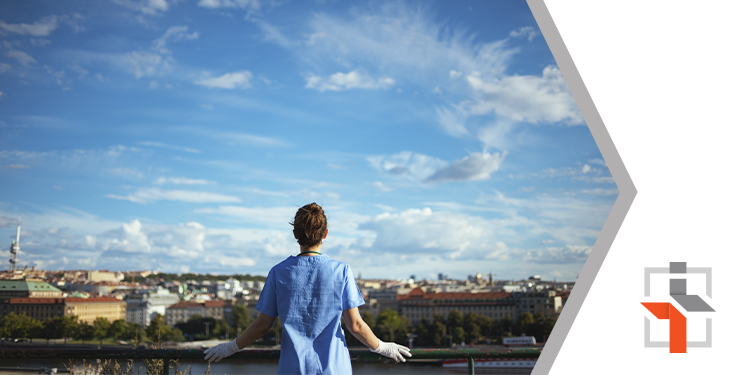 Working locum tenens assignments has a plethora of advantages over standard employment. Aside from boosting your monthly income, advancing your skillset, and meeting new people, there's also the appealing benefit of travel and new horizons.
If you're the outdoors type with a passion for hiking, locum tenens provides the ideal opportunity to indulge yourself in outdoor recreation.
The United States offers some of the best hiking routes in the world, thanks to the 1964 Wilderness Act, which protects 111 million acres of wilderness areas from coast to coast. With its mind-blowing variety of terrains and climates, there's an adventure for any hiker.
From coastal treks to desert passages, here is our round-up of the five best states to take a locum's assignment if you long to hike across America's diverse landscapes.
1.Colorado
Colorado is a remarkable place to visit for any hiker. The best thing about the Centennial State is its high altitude, meaning you're going to have spectacular views around every corner.
Hikes range from leisurely strolls to extremely rugged treks, but all of them are guaranteed to be a good time. If you're looking for an easier walk, try Flatirons Vista Trail in Boulder with its gentle inclines and panoramic views.
If you're a more experienced hiker who enjoys longer trails, head over to Rocky Mountain National Park and try your hand (or legs!) at summiting Longs Peak. It's the tallest peak in the park and one of the toughest in the state. You can challenge yourself physically and mentally while savoring the fantastic views.
2.  California
California is a state that's long been known for its fantastic hiking. If you want to explore the best of what this region offers, head over to Yosemite National Park, which features some highly-rated trails and stunning views.
You can also explore San Diego, which, aside from its reputation as one of the most popular beach destinations on earth, has plenty to impress outdoor enthusiasts. It has opportunities for hikers who love trekking through desert landscapes or taking on ocean hikes with an unforgettable view at sunset.
There are also many hidden gems in parks inland from San Francisco and Los Angeles, where hikers can enjoy miles upon miles of scenic vistas while exploring new trails.
3.  Utah
Utah is home to the "mighty five" national parks and monuments, including Zion, Arches, Bryce Canyon, Capitol Reef.
What makes hiking in Utah impressive is the trails ranging from easy to complex for all skill levels, including terrains such as mountainsides with waterfalls and desert landscapes. The state offers gentle hikes through forested areas, or higher elevation climbs up rock formations like Angels Landing at the Grand Staircase-Escalante National Monument.
An undemanding hike in Utah is the Lake Powell Shoreline Trail. This trail offers views of canyons and red rock formations and access to go horseback riding or kayaking on the lake.
4.  North Carolina
North Carolina is excellent for hiking as it offers so much variety. Whether you are looking for a long, demanding hike or want to take in the scenery on a short walk, there's something for everyone. Plus, North Carolinians know how to prepare visitors with outstanding hospitality and delicious food.
The most famous mountain range in the state is the Appalachian Mountains, which start near Springer Mountain in Georgia and runs through western Maryland before ending at Mount Mitchell in Black Mountain County, North Carolina. This scenic span presents some of America's best hiking trails that will leave your muscles screaming from all the uphill climbing but also bring about breath-taking views that make every step worth it! So, if you love taking ambitious walks where sometimes even small rocks become a mountain, these are the best hikes for you.
5.  Oregon
Oregon is a beautiful state with countless miles of hiking. It's a top choice for water lovers, with more than 100,000 miles of rivers and streams, 360 miles of coastline, and over 1,400 lakes.
The Columbia River Gorge is a sight to behold, as it feels like you're walking through the gates of heaven. There are various beautiful, peaceful trails to take you up and down the gorge, from sedate to arduous, and each offers impressive views along the way.
If you want a challenge, Mount Jefferson, with an elevation of 10,502 ft, is one of the most complex mountains to climb in the state due to its rugged terrain. It's a stratovolcano with incredible glacial views.
Oregon has many different opportunities for hikers—from mountains to valleys—there's something to suit any hiker out there.
Guarantee a healthy work-life balance with locums tenens positions
If you have the spirit of adventure, working locums tenens means you can embrace your leisure time doing the things you love.
Imagine hiking the extraordinary trails found throughout the United States. These national treasures are waiting for you. Enjoy the fresh air while exploring stunning scenery from coast to coast, allowing you to rejuvenate your mind and body with nature's touch while earning an attractive salary and advancing your resume.