Practical Tips for Dedicated Doctors: How to Manage Your Busy Locums Schedule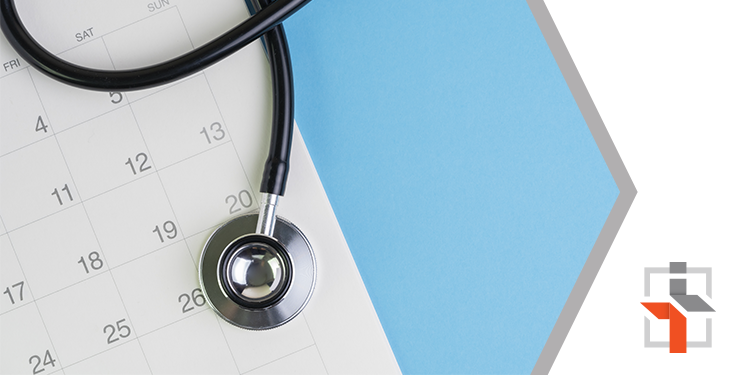 Working in medicine isn't always an easy feat. Although fulfilling, it's a physically and mentally demanding career that can dominate your time and cause incredible stress and overwhelm.
As a locum tenens doctor or APP, you often face multiple demands and always feel busy. Doctors must also deal with paperwork and administration despite a patient load and often remain on-call for emergencies.
With so many patients to see and other tasks to complete, it can be challenging to manage a schedule, find balance, and maintain your sanity, let alone make time for yourself and your family.
With that in mind, we're here to offer you some tips for managing your busy locum schedule so that it's easier to find some moments of peace and relaxation during your week.
Plan ahead
Planning and organization are key to upholding a manageable timetable. Knowing what items on your schedule absolutely need to happen and when means that they don't intrude on other essential tasks. You must also think about your on-call days and block off any vacation time.
The next stage is to mark down priorities, such as when records or reports are due or when documentation expires. Your schedule may continuously evolve. As new things arise that require attention, you may need to go back and change your scheduling to keep you on track throughout your busy week.
It's good practice to incorporate flex time into your plan so you have a buffer in case something falls through or if you get delayed by an emergency at work.
Don't forget to plan personal events such as exercise, dinner with family, laundry, etc., and build these into your schedule. That way, you can prioritize your mental health, your family's needs and have some time for yourself.
Being prepared with a plan allows you to deal with anything that crops up unexpectedly, such as unscheduled patients, extra shifts, or personal matters.
Organize your documents
If your consultant advises you of a desirable locum tenens contract, you must be ready to act. Some contracts need qualified help at short notice, and you don't want to miss out on your ideal assignment because your documentation isn't up to date.
To move through credentialing quickly, you should ensure that you have copies of all current documentation, including:
Resume, updated with every locums job you've taken in the last two years
Current state medical licenses
Federal DEA certificates
State-controlled substance registrations
Malpractice claims history
NPI Number confirmation letter
Specific course certificates such as BLS or NRP
It's good practice to keep other specific documentation, including:
Graduate diplomas
Medical school diploma
Passport
CME for the past two years
Note that this isn't a complete list, and there may be other documentation you should have at hand for your specialty and circumstances. Your consultant at Integrity Locums can help you compile a list of necessary documentation so that you're ready to move forward immediately when your dream assignment lands.
Avoid burnout
It's all too easy in the medical industry to become burnt out. Doctors and APP's are dedicated people who want to do the best for their patients, but you need time for yourself to recharge and relax.
Don't over-book yourself by making too many commitments. You must factor personal time into your working week.
One of the best ways to avoid burnout is recognizing the signs and implementing a plan before it leads to exhaustion and poor performance. First, try to clue into your energy levels, and when they fall or fatigue sets in, you should take time off. This could be days or weeks off or simply taking short breaks throughout the day to walk around, grab a coffee, and allow yourself some mental space to think and reflect.
Managing your locum tenens schedule with a full-time job
It's possible to work both full-time and pick up part-time locum tenens contracts. There's often PRN work filling in for providers as needed, weekend shifts, or occasional shifts. You're free to choose the arrangements that best fit your timetable.
Additionally, some Locums doctors opt to arrange additional work throughout the year for weeks or months at a time, depending on their full-time commitments.
Locum tenens doctors can benefit from the stable income of a full-time job and the freedom and networking opportunities that short-term assignments provide.
Choose a specialty that offers work-life balance
It's no secret that certain medical specialties are more demanding on a working schedule. Thankfully, locum tenens contracts cater to a wide variety of specialties meaning you are free to choose one that's well-suited to your personal life and other work rosters.
According to the American Medical Association, physicians rated the following five specialties as having the greatest flexibility for working hours:
Physical medicine and rehabilitation
Dermatology
Radiation oncology
Orthopedic surgery
Emergency medicine
Conversely, anesthesiology, neurology, and obstetrics and gynecology rank lowest for work-life balance factors.
Managing a busy Locums schedule is possible
Managing a hectic work and social calendar can be challenging, but you'll be in a stronger position for taking on new locum tenens contracts by being organized and planning.
Your consultant at Integrity Locums can provide guidance whenever you need support to help you succeed with your locum tenens schedule.