The following directions are for Providers using the Time & Expense system. It is broken into the following categories:
Initial Setup:
Providers that have been successfully credentialed will receive an email generated from our system that will provide you with a user name and link to set up your password.

Follow the link to set up your password. You can change the suggested password to one of your choice. Please choose something memorable yet that is still complicated enough that someone can not guess it. Do NOT use: pass123, myname, or anything easily guessable. Do USE lowercase letters, uppercase letters, numbers and symbols if possible.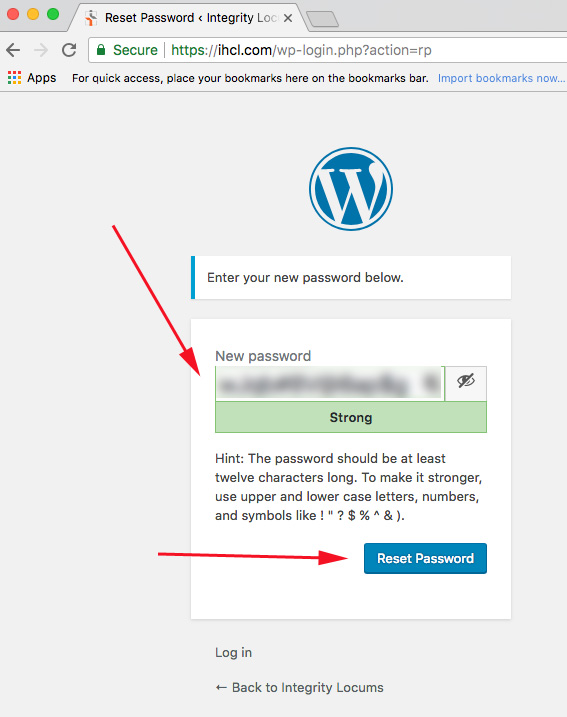 Once you have set up your password follow the link to "login" from this screen OR go to https://ihcl.com and click the Login button in the top right corner.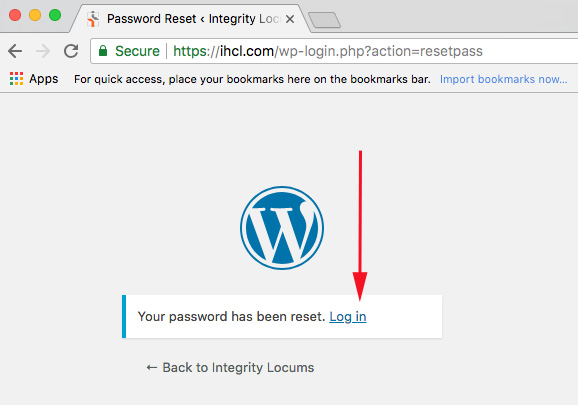 Logging In:
Go to the IHCL website (https://ihcl.com), click the "Login" button near the top right corner of the menu and input your username and password to log in.
If desired, select the Remember me check box do you don't have to type your password in each time you want to log in.
NOTE: If you forget your password, you can reset it at any time by clicking the Forgot Password link.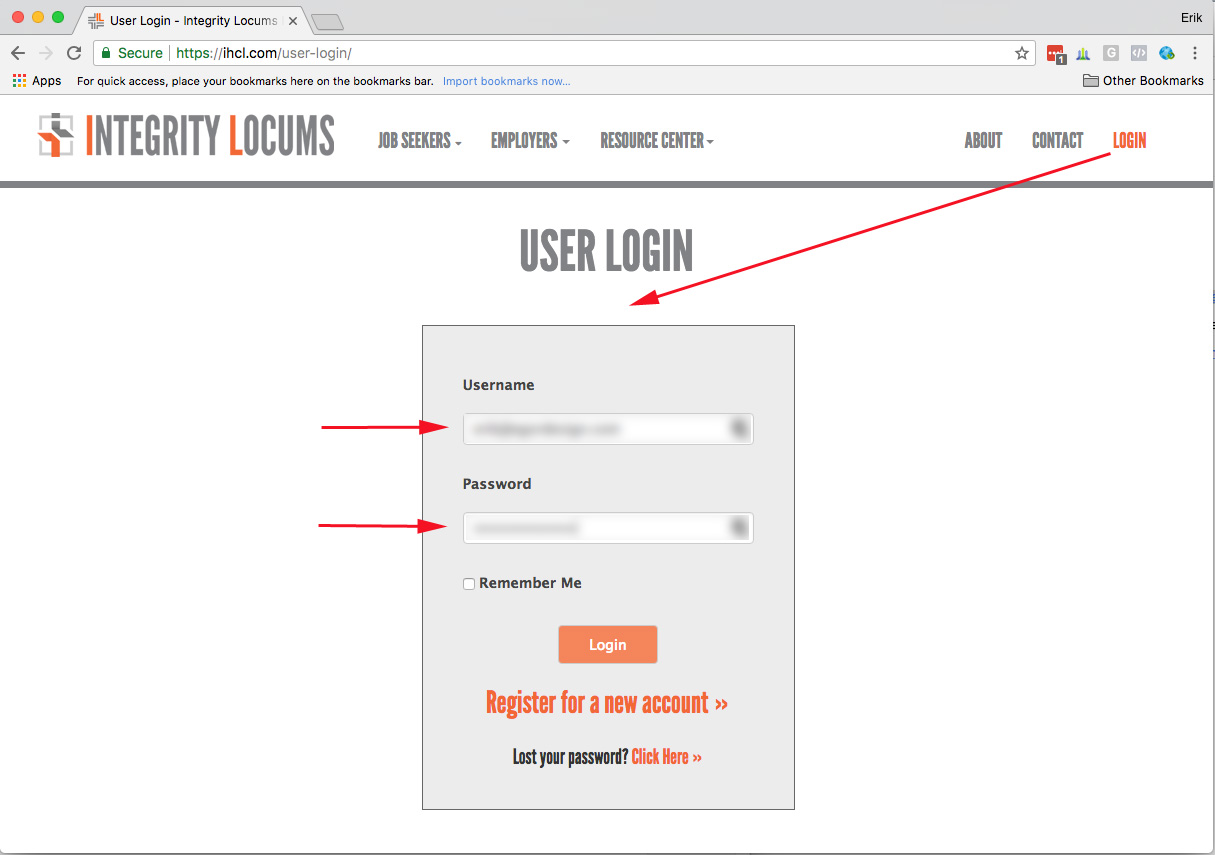 Dashboard Navigation:
The Dashboard is made up of 4 main parts.
1) Time and Expenses: Enter Time and Expenses (button to take you to T&E Forms)
2) Credentialing: Credentialing Forms (button to take you to Credentialing Forms)
3) Change PW (change password)
4) Logout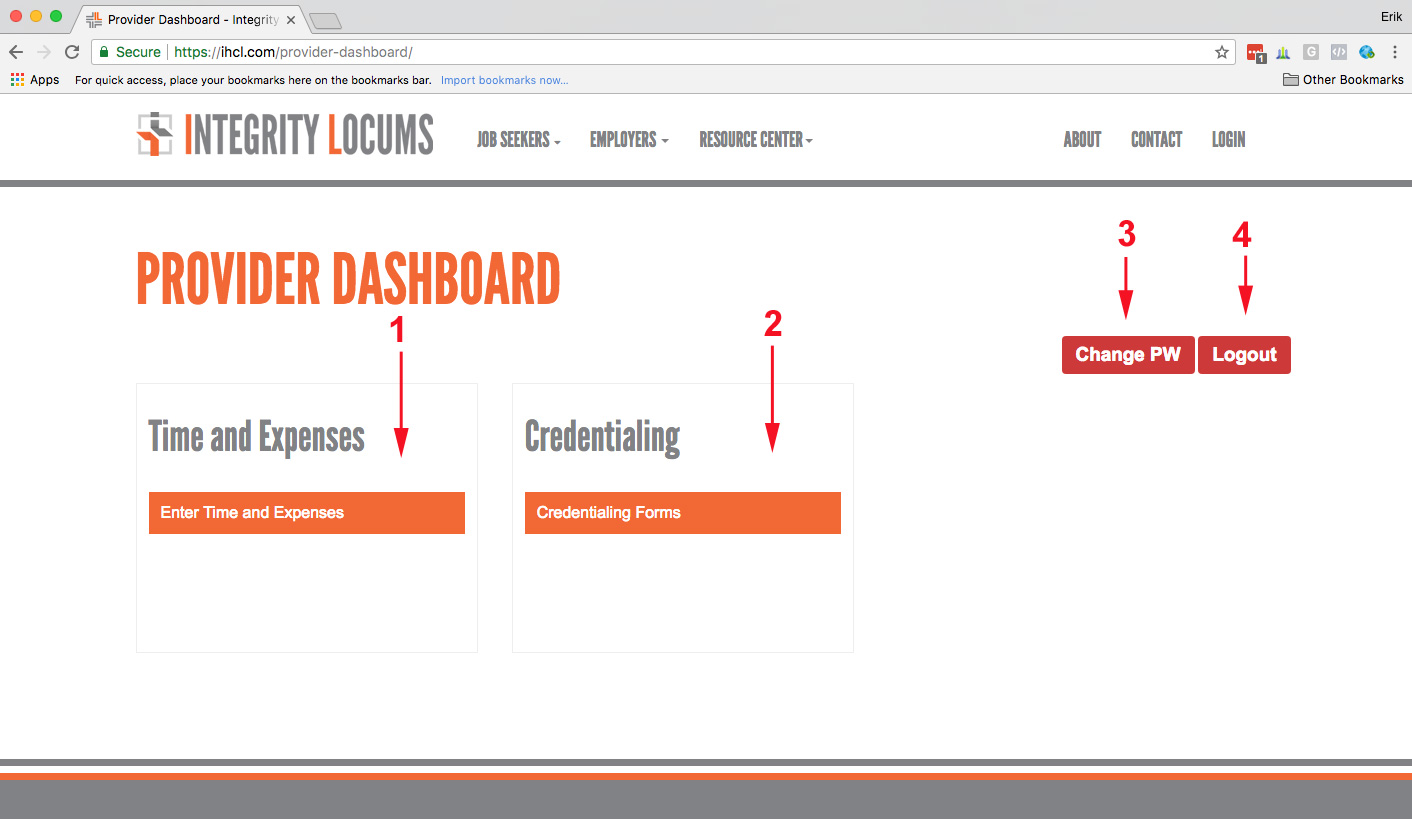 Time & Expense Navigation:
Here is a quick summary of the Time & Expense screen.
1) Your username
2) Your current registered worksite
3) Logout button

4) Timesheets Tab: This is where you will find all your Timesheets
5) Expenses Tab: This is where you will find your Expenses
6) Your current Time Period
7) Your current Time Sheet Status
8) Your current Total Hours recorded
9) Your current Total Expenses recorded

10) Information and directions to help you fill out your report will be located in the message area.
11) Calendar shows the current day and week
12) Create a blank time sheet: click this button to create a new time sheet
13) Copy Previous Time Sheet: you can choose your last most recent timesheet to copy and edit. This is helpful if you have a steady schedule such as working Monday – Wednesday from 7am to 7pm every week.

Create a Time Sheet:
To create a Time Sheet follow these directions:
1) Select the date/week you would like to enter time for
2) Choose Create Blank Time Sheet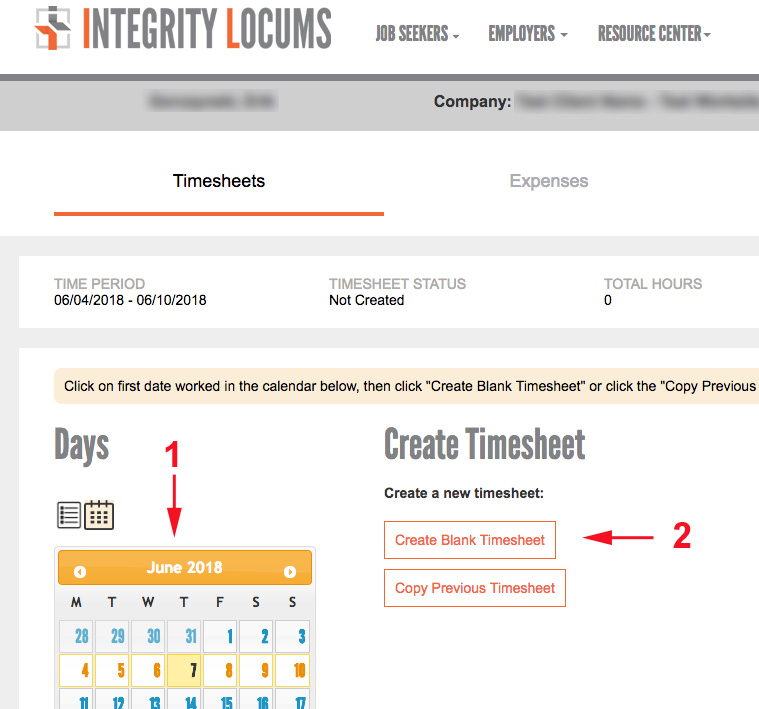 3) You arrive at a screen with a list of days for that week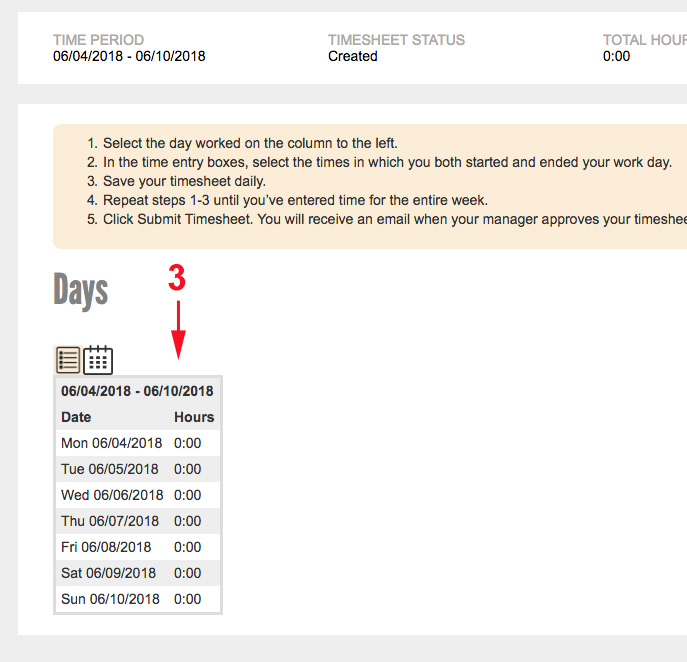 4) Select the first day of that week that you would like to enter time for
5) Add the information for your work day. This will include the time in, time out, shift type and notes. If your work day is separated into groups of hours, click the "Add" button to add line items for that day.
6) Once you have completed adding time for that one day, click "Save All"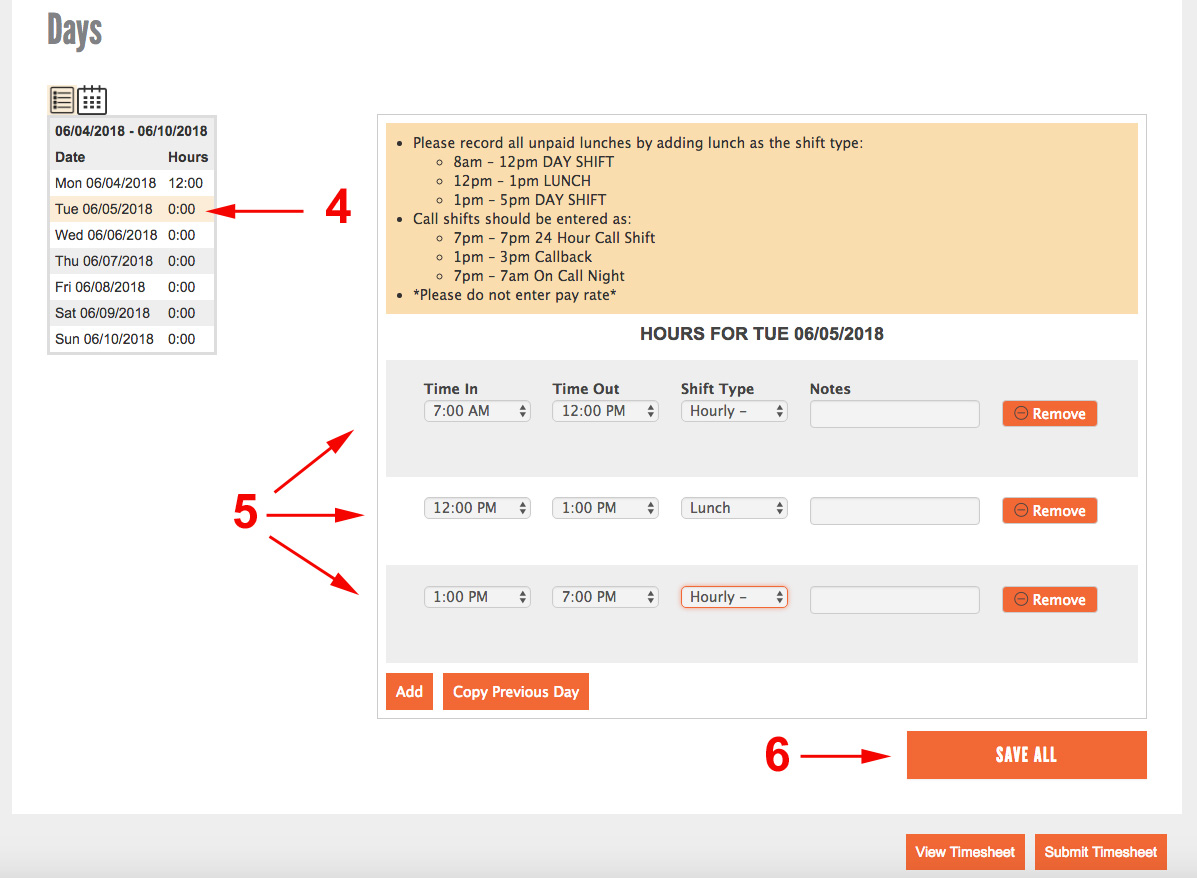 If you are still working that week, you can logout or leave this page until you're ready to add more time.
Adding Expenses and Receipts:
If you have work-related expenses that you would like to add for that week, click on the Expenses tab near the top of the Time & Expense screen to add expenses.
To add a receipt, first make sure you have scanned your receipts and saved them on your hard drive.
1) Click on "Add Mileage" to add an expense line item for mileage
2) Click on "Add Expense" to add an expense line item for expenses
3) Click on "Choose Files" under the Receipts title to choose and upload a receipt file from your computer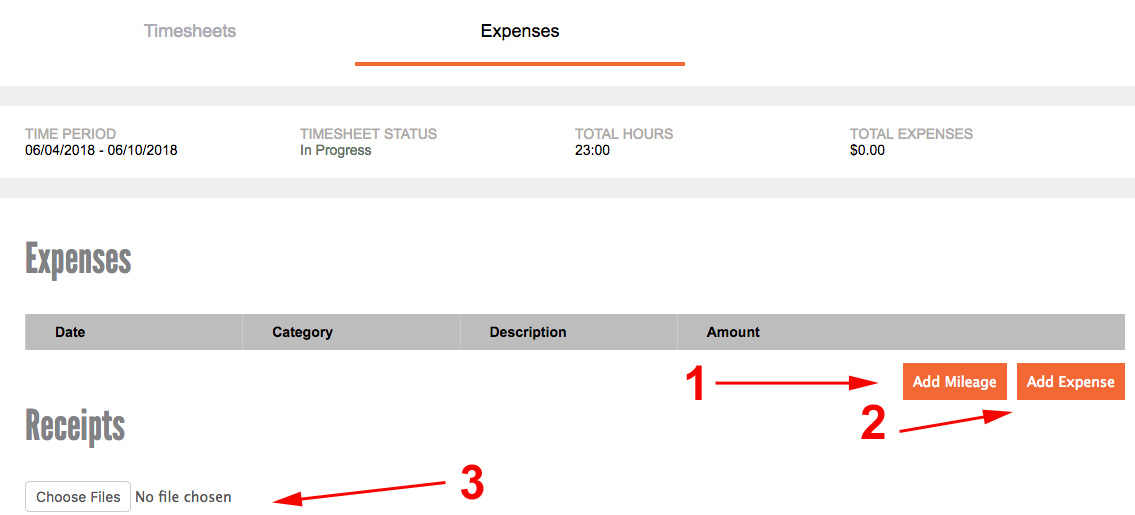 3b) Here is what typical screen would look like that shows your files and allows you to find and upload the receipt file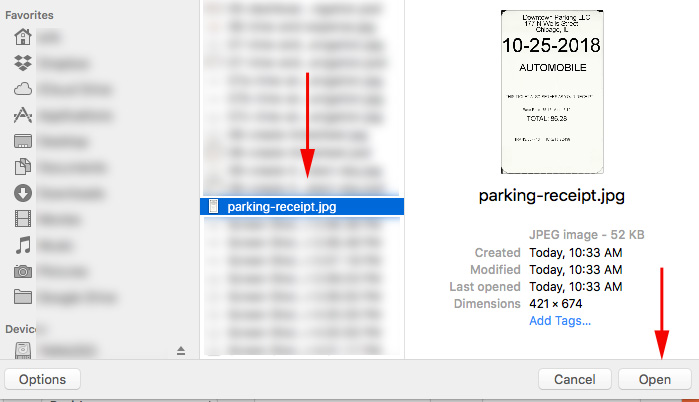 4) Click "Save All" after adding all your milage and expenses for that work week
5) The screen will show a green "Success" message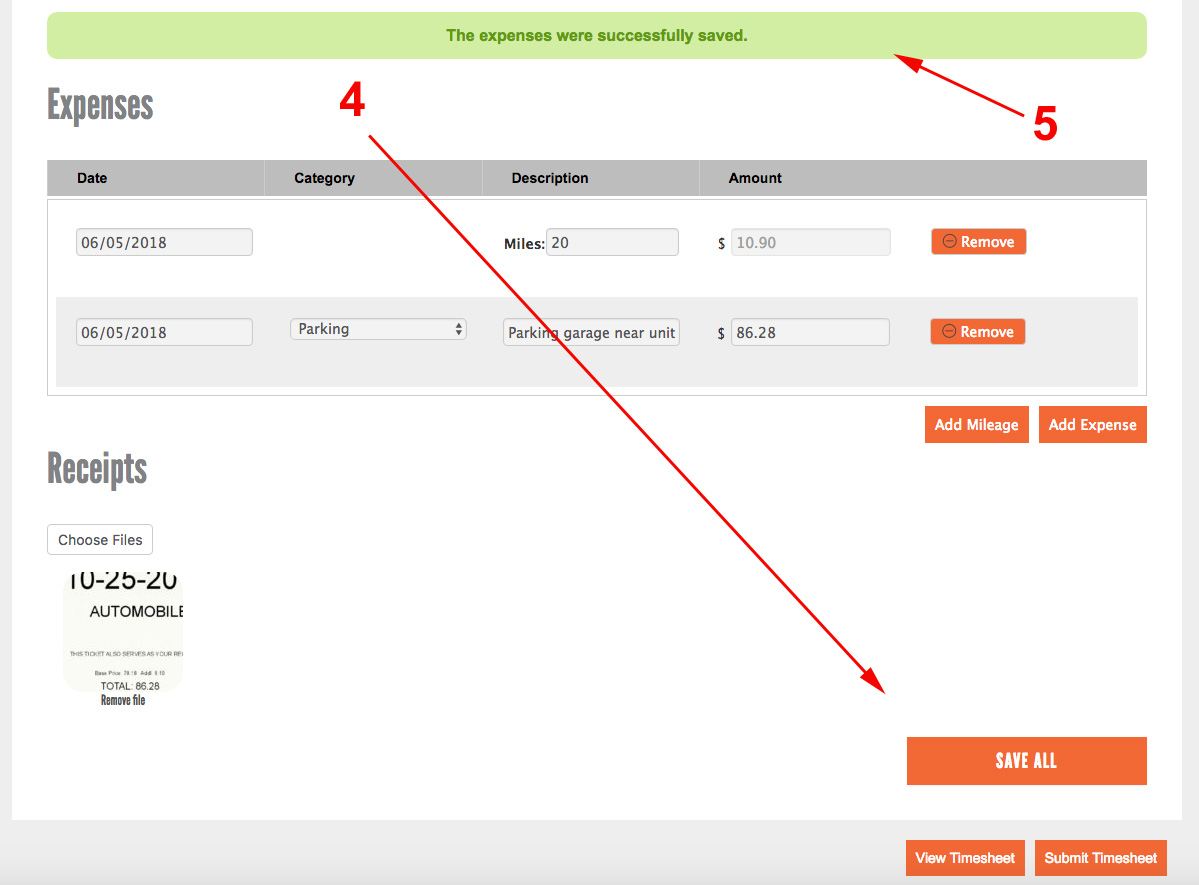 At this point you can either navigate back to the Timesheet, leave the screen or Logout.
If you're done with your work week you have two options:
View Timesheet:
To view your timesheet you can
1) Click on the "View Timesheet" button
1b) The Timesheet will appear in a new Tab or Window so you may get a "Popup Blocker" warning depending on your browser settings. Please select the "Allow" dialogue and save so you can see the Timesheet. You may need to click on the "View Timesheet" button again if you don't immediately see the Timesheet after allowing the Popup.
2) Review the Timesheet and see if there is anything you would like to change. Whether changing or not, you can close this Tab/Window after reviewing this screen.
Submit Timesheet:
To submit your timesheet
1) Click on the "Submit Timesheet" button
2) A popup will ask if you are confirming the submission information
3) You will receive a message that says the timesheet has been submitted successfully
4) If the timesheet was submitted in error you must click the "Unsubmit Timesheet" button to edit it.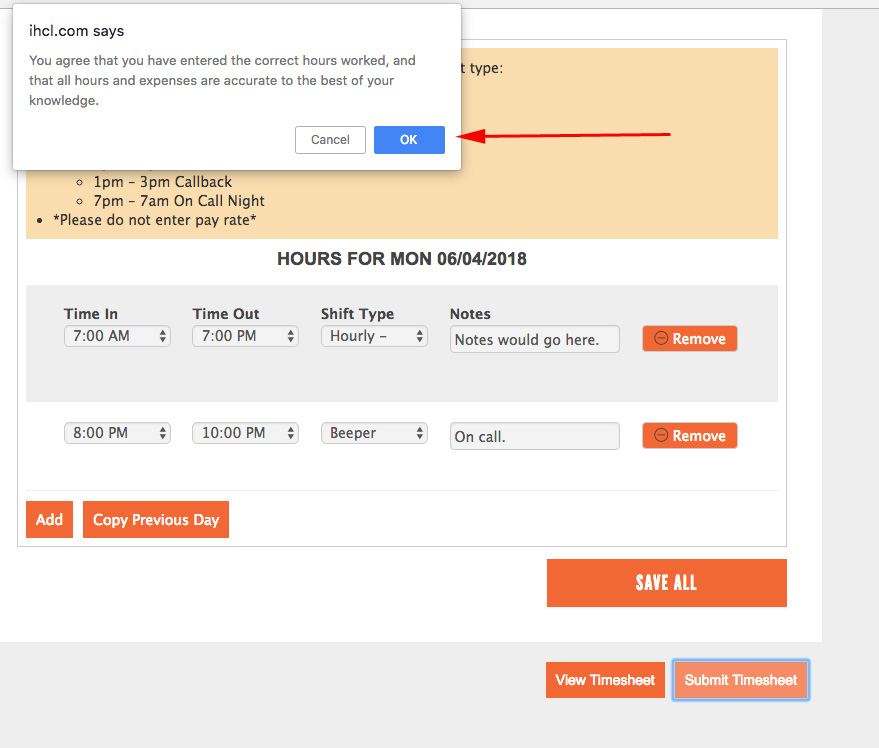 You are done with that Timesheet!
Approving Time: (Coming Soon!)