Working Locum Tenens: Everything You Need to Know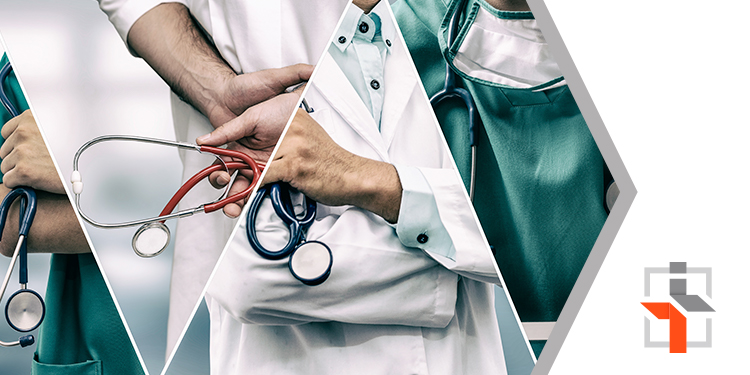 What makes working locum tenens so enticing?
Well, an alarming 42% of physicians report that they feel burnout, according to the 2020 survey of America's physicians. With over a billion patient encounters to manage every year, perhaps it's no great surprise. Physician burnout is a worrying trend that is entrenched in the healthcare industry and can affect patient care.
There is another way—imagine an opportunity, where instead of wanting to change your career path you can see the world outside the walls of your medical practice, while still doing the work you love.
With current career challenges and escalating stresses, considering work as a locum tenens physician or locum tenens advanced practice provider could be the solution.
You can enjoy traveling, accepting roles that suit you best, improving specific skillsets, earning a competitive salary, and focusing on your patients without any administrative worries.
What's more, any physician or advanced practice provider (APP) can work in a locum tenens position. Contrary to what you may be thinking, having a full-time job is not a limitation to working locum tenens.
Let's explore the many advantages of locum tenens.
What Is Locum Tenens?
A locum, or locum tenens, temporarily fulfills another healthcare professional's role and duties. Locum tenens is a Latin phrase meaning "to substitute or hold the place of."
Physicians and APPs work in the place of the regular physician or APP when they are absent, or when a hospital or clinic is short-staffed. The temporary assignment can last for days, months, or years.
Many clinics need regular on-call coverage for weekends or during evenings. Physicians with a full-time job can earn extra money or gain proficiency in other clinical areas with a locum position.
You could experience an entirely different working environment on a working sabbatical to cover a physician on vacation for a couple of weeks or more.
Benefits of Working Locum Tenens
Locum tenens physicians, PAs, and nurse practitioners provide an invaluable staffing solution for healthcare organizations. It allows them to supplement their full-time medical staff during peak periods or due to understaffing. Full-time physicians and APPs also benefit considerably from welcoming these roles.
Traditionally, working locum tenens was a way for physicians approaching retirement age to reduce their hours, escape burnout, and remain in practice for longer. Today, locum tenens is becoming increasingly common. A 2019 report found an upsurge in interest among physicians in locum tenens positions.
Here are some of the perks of working a locum tenens job:
Freedom and flexibility of schedule
Working locum tenens puts you in control of your schedule. You're free to assess and pursue the opportunities that suit you best, where you want, and when you want.
You may prefer to work locums on the weekends or at other set times, choose to be on call temporarily, or work full-time as a locum in a recurring role at a clinic or hospital near your home. There are no set rules. Working locum tenens is entirely flexible.
Increased earnings
Although compensation varies, locum tenens assignments pay comparable—and in some cases higher—hourly rates than their full-time equivalents.
Many medical professionals welcome the extra earning potential to help pay off student loans and other debts, help with purchasing a house or car, or pay for their children's education.
Learn about working in different facilities
Understanding your working style helps you excel in your career. Do you work best as part of a small team? Do you prefer the adrenalin of emergency care or more relaxed primary care work?
In a locum tenens position, you can learn about your working style. You can find a role working in groups, as an individual provider, health systems, insurance coverages, small clinics, or large hospitals, and decipher which setting suits you best.
It's like test-driving a new job where you can gain valuable perspective without having to commit.
Maintain specialty skills
A full-time job may not include the specialties that you enjoy or wish to develop further.
When you're working locum tenens roles, you can choose the areas or skills you want to focus on, meaning you can expand both your resume and horizons.
Travel
With locum tenens positions available all over the US, you have an incredible opportunity to visit wish-list places without ever having to pay for airfares or hotels.
You could turn a locum assignment into a working vacation. You could bring along your partner, family, and even the family pets.
A change of scenery can alleviate stress and afford a new, positive outlook without a career break.
No facility administrative issues
Full-time positions often have administrative or teaching responsibilities. Because locums are temporary, you won't have to deal with these obligations or with the complexities of coding or billing.
You can focus on practicing medicine instead of managing the distractions of admin issues, bureaucracy, and office politics.
Issues with Working Locum Tenens
Before you can fully assess if working locum tenens is right for you, let's look at some of the nuances of locum tenens assignments.
Minimal benefit offerings
A locum tenens physician or a locum tenens APP, is classified as an independent contractor or 1099 employee.
You are responsible for making estimated tax payments and you don't receive benefits like healthcare, 401k, and others. Malpractice coverage is usually included and the benefit of schedule flexibility typically makes up for no vacation days.
Uncertainty
If you're a stickler for planning, working locum tenens can be tough as there are times you can't plan for the entire year. Locum assignments are usually only available 3-4 months in advance. Working with multiple agencies can help alleviate the uncertainty as can healthy budget planning.
Constant credentialing
Credentialing and obtaining privileges, verifications, certificates, and new state licenses at different facilities can be tedious and time-consuming. It is a challenging part of working locum tenens.
However, when you work with Integrity Locums, we help you with the process, so it's fast and painless. Typically, a return to facilities is much easier once you have been privileged, or you have a clean malpractice record. Additionally, you're typically asked for all the same information over and over again, so having a good organizational system helps speed this process up.
Locum Tenens Agencies
It can be intimidating to find work as a locum. You need to embark on the journey with clear expectations. If you are wondering how to find a locum tenens job, this is where locum tenens agencies shine.
Finding a locums position through an agency, rather than on your own, is the easiest and fastest way to secure work. The agency oversees the entire process of finding and securing work for you.
Locum tenens companies have both long and short-term postings, locally and nationally. You'll have the opportunity to find a locum tenens job that's most suitable for you. When you work with an agency, you have less to manage. You'll receive punctual payment, often weekly, so you won't need to chase down your pay packet. Agencies can also help with sorting out travel and locating accommodations, so even if you accept a job on the other side of the country, the entire process is streamlined. It's essential to work with a reputable, professional agency with impeccable standards that thoroughly understands the healthcare profession.
Choose an agency that's a member of the National Association of Locum Tenens Organizations. NALTO sets standards of practice and codes of ethics for locum agencies, meaning you are assured of a positive experience.
Large agencies vs. small agencies
Large agencies may dominate when it comes to the range of available jobs. However, they can be impersonal because they have a large staff.
The decisive factor in a favorable locum tenens experience is a consultant that you feel comfortable talking to and can trust.
If you are more interested in developing a long-term beneficial relationship with an agency, a small agency, where your consultant knows you, is a logical choice.
Smaller agencies are typically more responsive and will offer intangible benefits like more in-depth credentialing support.
Agency teams
Most agencies have their consulting teams broken into various specialties. Others train their consultants to work in all specialties across the board.
Your consultant is your best friend when it comes to finding a locum position. They not only help you find a job, but they coordinate the entire process.
With Integrity Locums, you're not just a name on a resume. We get to know you, so we can match you with assignments that match your work ethic and personality, not only your specialty.
Any reputable agency should have a credentialing team to manage your paperwork for privileges, a team to organize your travel and accommodation, a payroll team to ensure you get paid, and a marketing team that notifies you of new positions.
What to look for in an agency
When choosing a locum tenens agency as your new partner, you need to do your research. These are the critical elements to consider:
The specialties they work with. Does the agency work with all specialties, or do they focus on a narrow area of practice?
Malpractice coverage. Adequate insurance is of paramount importance. The best agencies ensure that sufficient malpractice insurance is in place for their locums. Without proper coverage, a physician could be left vulnerable. The agency should be happy to share the policy details so you can evaluate the coverage.
Credentialing specialists. Managing your own credentials and licensing, especially across state lines, can be time-consuming and complicated. Each state has its own rules and regulations that can be difficult to navigate, especially when you may have limited time to submit your documentation. Having an agency that handles and expedites the process is invaluable.
Support team. A great agency strives to make your job as easy as possible. They have a support team that deals with every aspect of your new role, including the travel arrangements and housing details, so you can focus on providing quality care for your patients.
Client relations. Your needs should be a high priority for the agency. The consultant should be transparent, accessible, and happy to discuss the entire locum process with you. There should be clear guidelines for when they will contact you or if you're expected to check in with them. You must feel satisfied you've had all your questions answered and feel assured about the company's quality in general.
At Integrity Locums, we are proud to provide a superior service for our physicians and APPs, and we always strive to exceed your expectations.
Warning signs of a second-rate agency
Every locums staffing agency is different. Your experience from one to another can vary considerably.
When applying for positions or assessing an agency you're not familiar with, there are warning signs that they may not meet your expectations, including:
No social media presence. Have you looked for the agency on LinkedIn and Facebook, and either didn't find them, or their last post was months or years ago? Agencies use social media to stay connected with their clients. A strong social media presence indicates a reputable and trustworthy locum agency.
Poor communication. It's frustrating to call and email and have no one reply. If your consultant ignores you, this should raise questions. A recruitment consultant should remain in close contact with their candidates without becoming overbearing. If you're struggling to open or maintain communication lines, perhaps a different agency would serve you better.
A lack of support services. If the agency expects you to arrange your own travel and accommodation, you should take pause.
They lie or misrepresent the job opportunity. No competent staffing agency would ever be anything less than completely honest. It serves no one to misrepresent an opportunity and can cause considerable inconvenience.
Integrity Locums is an award-winning agency, and we know how to treat our clients to keep them happy. You'll have no concerns when you partner with us.
How to Apply for Locum Tenens Jobs
Getting started as a locum is surprisingly simple. Your dedicated Integrity Locums recruitment consultant helps you along every step of our efficient process. We are passionate about finding you the right job, not just any job when you enroll with us.
Here is what you can expect from Integrity Locums when you are applying for locum tenens appointments:
Register with our online portal
The first step to working with us is to register with our online portal. New candidates need to create an account to start.
Once you have access to the portal, you'll need to complete our online application, required forms, and submit credentialing documents like your board certification and school diplomas.
Our easy-to-use portal walks you through the process, but if you have any questions, we're just a phone call away.
Review suitable assignments
Your consultant takes the time to get to know you and exactly what you are looking for in a locums assignment. They share matching assignments with you to review and consider.
The question of how to choose a locum tenens job depends on your circumstances. There is no pressure to accept a particular role but bear in mind that your consultant will offer their best suggestion for submission timeline so that you'll be a competitive candidate. Some locums jobs are urgent and require an urgent turnaround time.
You are free to select the assignments that suit you.
Once you find a job you're interested in, your consultant will ask for your permission to "submit" you. This just means that they have your permission to send over your CV and a summary of your qualifications to the hiring manager. In many cases, more than one physician is considered for each job, so don't be disillusioned if you aren't accepted for the role—your consultant will continue to look for additional opportunities.
Keep the lines of communication open
Good consultants work tirelessly to find their candidates suitable roles. When you register with an agency, you'll receive communication about new opportunities that match your state licensing and specialties. The agency should make you aware of any relevant postings.
Finish your application
Once you've found the ideal locum assignment, you'll collaborate with the consultant and your assigned credentialer and complete the application.
Complete credentialing
Our specialized credentialing experts are on hand to assist with submitting your credentials, privileges, and obtaining a state license if necessary, for your new role.
The exact list of documents required for credentialing varies based on the assignment, the provider, and other factors. You can expect to provide copies of:
An up-to-date resume or CV
State license certificates
Diplomas and postgraduate certifications
Controlled substance registration
Life-support certifications
Certificate of insurance
Recent case and procedure logs
Personal immunization records
The privileges you're seeking determine the additional requirements. Locums will likely also need to provide at least three references, including two from clinicians in their specialty.
It may seem daunting, but at Integrity Locums, we make it easy. Do not worry. We do this every day and make it easier than you ever thought possible.
Confirm travel and accommodation arrangements
When you work with Integrity Locums, we want your experience to be effortless. We arrange your transportation, car rental and accommodation, at zero cost to you.
We can also provide you with orientation in your new location to help you hit the ground running.
Enjoy our ongoing support
Our involvement doesn't end when you start your new role. If you have any questions, concerns, or needs in general, at any time during the employment process, we are here to support you.
The most important thing to us is that you have a positive experience, not only during recruitment but in any role we match you with. Ongoing support is part of our benefits package.
 Frequently Asked Questions
What does "name clear" mean?
Healthcare facilities often have urgent needs for locums, meaning that they advertise the role with multiple agencies to fulfil their requirements as quickly as possible.
Hospitals typically require the consultant to "name clear" locum candidates before they can be considered. This prevents an individual being presented to the hospital more than once by different agencies, referred to as "double presentation."
The locum agency should tell you which hospital or health provider needs locum tenens coverage, and you should keep a log of which agency presented an assignment. Agencies should not submit your CV for a role without your explicit approval.
 How long does it take to get credentialed?
The short answer is that it varies. Your recruitment agent works with you to organize your paperwork and facilitate the process of obtaining privileges for hospital settings. Often, we can pre-fill your application, and you need just review and sign.
We have a credentialing team that handles your application, runs background checks, ensures your certifications are on file, and meets all state and federal regulations. Applications can be of considerable length. Some can be a massive 150 pages long, which is overwhelming for a new locum.
In a hospital that requires privileges, the credentialing process can be between 30 days to 90 days or more. Some hospitals have a system for emergency privileging, which allows a locum to begin working before completion of the full process.
Credentialing to work at a smaller clinic is simpler and focuses on verifying the locum's identity and that the required certifications and controlled substance registrations are present. This shorter process can take just a couple of weeks.
The provider can help the agency expedite the credentialing process by responding promptly to any questions or requests from their consultant or the credentialing team.
 How much time do I have to decide to take a job?
Again, it varies. In emergencies, where a hospital is in urgent need of staffing assistance, you should decide as soon as possible if you'll accept the assignment.
In other situations, you could be competing with a pool of other physicians or APPs for the job, and the employer needs time to review the applicants.
 How do I organize travel?
We have an expert in-house travel team to make every travel arrangement for you. We gather your information and then handle every aspect of your journey.
Don't forget to mention if you have rewards with any airline or hotel. We do the legwork then forward the flight and hotel confirmation to you, and you're ready to go.
 Is there an orientation? What happens on the first day?
All the information you need is communicated by your consultant. They provide the details of who to meet, where, and when.
You may need additional information about scrubs, PPE, and break times, depending on the role. You'll have a contact person at the hospital or organization who can also help you but know that you can lean on us to support you whenever you need to.
 How do I get paid?
Before you can receive payment, you must complete a direct deposit form (usually completed during credentialing). After you work each week, a timesheet is submitted and then approved.
All you need to do is submit the documentation, and our payroll team handles the rest. You'll typically get paid weekly with funds deposited directly into your chosen account.
Consider a locum tenens role
Working as a locum means achieving a work-life balance and opening the door to opportunities you may not have explored.
Curious about trying a locum position? Talk to us. At Integrity Locums, our experienced team of professional recruitment consultants can find you the ideal role.