Traveling for Locums: How Integrity Locums Takes Care of Your Travel for You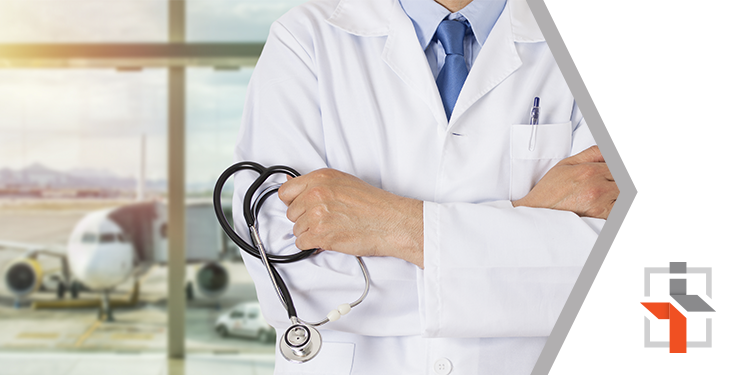 Although travel is exciting, making bookings, arrangements, and the journey itself can be stressful and arduous for locums.
At Integrity Locums, the comfort of our providers is important to us. So, we alleviate the stress of travel by taking care of all the arrangements for our doctors and Advanced Practice Providers, from departure to arrival, including flight reservations, rental car, and accommodation. As a result, you're free to focus on doing what you do best—providing quality medical care to patients in need.
Let's explore how Integrity Locums makes traveling for locums a hassle-free experience from beginning to end.
Traveling for locums before departure
Once you've found your ideal locum tenens assignment and your credentialing is confirmed, your expert travel consultant steps in and begins the preparation for your travel arrangements.
The Integrity Locums team books thousands of flights, car rental days, and hotel rooms each year, so we know how to help you arrive at your destination fresh and ready to go.
The first step is to confirm all details with the client to ensure the dates, location, and other specifics are correct. After this confirmation, your travel consultant reaches out to you to discuss travel arrangements. Often, the client has specific travel requirements, and your travel consultant follows those guidelines unless otherwise noted.
Then, they'll collect your details and preferences, book the travel, and email the itinerary to you.
Bear in mind that if you want to upgrade your seat or purchase additional in-flight services, meals, or alcoholic beverages that are not included with the flights, you must cover these costs. However, some travel expenses may be tax-deductible because of your status as a 1099 contract.
One of the joys of working locum tenens is that often you're free to bring a partner or children with you. If you choose to bring family along to travel with you, you're able to make suitable arrangements, and we'll reimburse you for your portion of the travel expenses.
The journey
Integrity Locums covers your airfare, and we pay upfront, so all you need do is get to the airport on time, check in, and get your boarding pass.
Expenses like car rental, mileage, parking fees, and tolls are reimbursed, so you'll need to pay and keep your receipts. If you're renting a car, don't forget to take your valid driver's license to the car rental office.
At Integrity Locums, we provide a dedicated emergency line to help you during your journey. We understand that travel arrangements can change in the blink of an eye. Delays that cause you to miss a connection, flight cancellations, or the need to book an emergency flight or hotel are common occurrences. If you experience any difficulties while traveling, dedicated travel experts are available to help around the clock.
Your accommodation
Depending on your assignment, you may be staying in a hotel or lodging provided by the healthcare facility.
You may select a placement that's within driving distance of your own home, in which case there's no need to plan accommodation. If your assignment lasts a week or less, you may be staying in a standard hotel room with one bedroom and a bathroom. For longer assignments of up to a month, you may stay in a suite or larger room with its own small kitchen.
If your assignment extends to several months, a leased, furnished apartment or house is a more desirable option. More extensive accommodation may also be an option if you're traveling with family, even if your assignment is shorter.
Traveling for Locums made easy
With so many specifics to be planned, traveling for Locums can seem like a challenging task.
However, Integrity Locums makes the process straightforward by taking care of all essential aspects of your travel arrangements. We'll book flights, hotels or housing, car rentals, and more — and we even provide an emergency line should anything happen during your journey.
Integrity Locums are here to support you with the advice and assistance you need when it comes to working locum tenens.