The Impact of COVID-19 on Healthcare Organizations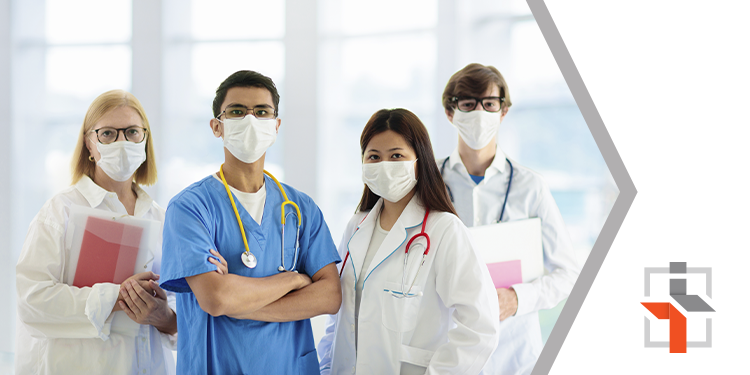 With over 35 million cases in the United States, the COVID-19 pandemic has caused ripples across the healthcare landscape. The situation has had wide-ranging and long-lasting implications for healthcare organizations across the country.
As the novel coronavirus spreads rapidly through our population, it creates incredible burdens on healthcare facilities and systems as they scramble to cope with the problematic and continuously evolving situation.
The impact of COVID-19 on healthcare organizations continues with the onslaught of new variants. In response, strategic planning for staffing and supply needs and new approaches to delivering medicine can help mitigate the potentially devastating effects for both individuals and institutions.
Here we explore four areas of the long-term impact of COVID-19 on healthcare organizations.
1. Financial
Healthcare organizations have suffered sustained financial challenges triggered by the skyrocketing costs of preparations for the pandemic and in treating increasing numbers of COVID-19 patients. Forced shutdowns and a sharp decline in non-emergent care have also contributed to revenue losses.
Experts estimate that in 2020, hospitals lost an estimated $323 billion, meaning that around 50% of hospitals and health systems will have negative operating margins by the end of the year. Projections indicate that these billion-dollar losses in revenue will continue through 2021.
To ameliorate these losses, facilities must engage cost-saving approaches, such as leveraging temporary staffing. Hiring locum tenens providers instead of contracting permanent staff allows for controlled costs by optimizing staff utilization. They need only hire qualified staff members to fill gaps in their staffing schedules, meaning they have the coverage they need despite budget cuts.
2. Medical supply chain
Hospitals cannot function without medical supplies and equipment. The pandemic has prompted a sharp increase in demand for medical resources, a situation exacerbated by disruptions in the supply chain, a lack of raw materials, and a decrease in available workers.
Globally, countries have struggled to meet the needs of personal protective equipment, testing supplies, ventilation-related products, and much-needed medications.
Manufacturing and supply chain disruptions have prompted healthcare organizations to implement improved strategies to track and analyze their supply inventory. This will allow an expeditious response to shortages and allow an un-disrupted flow of equipment and medicines.
3. Telehealth
COVID-19 has potentially evoked permanent changes to healthcare. One of these transformations is the delivery of healthcare through telehealth directly into patients' homes.
Technology has provided a bridge to care that otherwise would have been difficult or impossible for patients to access because of staffing shortages, social distancing measures, and hospital closures.
Telehealth provides patients with access to doctors, surgeons, psychologists, and nurses from all disciplines who help people unable to visit facilities. In fact, various reports indicate that over half of Americans have used telehealth during the pandemic, contributing to its explosive growth.
Healthcare organizations can leverage this newfound popularity in virtual medicine by contracting locum tenens staff to provide these services. A facility can select specialist providers to offer consultations, diagnose conditions remotely, and monitor a patient's recovery from injury or illnesses. These services are especially valuable because they can help reduce the burden on emergency rooms by decreasing unnecessary visits.
Implementing this technology could become an invaluable part of an organization's medical practice in the future.
4. Locum tenens
Healthcare organizations continually face challenges during the ongoing pandemic. One of the many is a surging need for qualified, licensed providers who can step in and ease staffing crises.
Locum tenens providers are the ideal solution as an increasing number of facilities are discovering. The United States temporary staffing market is snowballing, with an 8% growth in 2020 and a projected 7% growth to $21.3 billion this year.
The reason for this growth is apparent, as even before the pandemic, the shortage of qualified medical staff was an obstacle for facilities across the country, particularly in rural areas.
Ready access to health care is an assumption in urban areas with over 50 physicians per 100,000 residents. Conversely, in rural areas, this number drops to just 40 physicians. A lack of healthcare professionals is further compounded by socioeconomic factors, with around 25% of rural children living in poverty. The workforce shortage issue can negatively impact the lives of patients living outside of cities or suburban zones.
Temporary locum tenens staff allows for an extended reach into communities with a lack of available resources. Facilities can contract providers to cover specific periods or for regular part-time services. Utilizing locum tenens staff means reducing operating costs, high-quality care for patients in underserved areas, and alleviating staffing shortages.
These physicians and APPs can often work flexible schedules, which allows them to fill gaps during peak times and provide around-the-clock coverage when needed. In addition, they may have specialized skills and interests that can serve the needs of the community.