Stepping Up Your At-Home Workout With 4 Virtual Workout Sources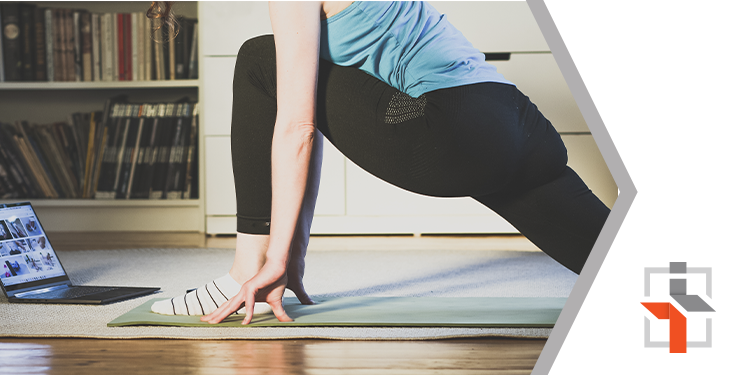 Have you paid money for an expensive gym membership only to find that your busy schedule doesn't allow for regular workouts? Life can be hectic for locums physicians and Advanced Practice Providers. Your days are full of countless tasks to tick off the list, and your good intentions to exercise can fall by the wayside.
For doctors and APPs who are on-call or have demanding schedules, exercising at home can be the best option for staying healthy and fit. Thankfully, there are a plethora of online resources, including videos and tutorials, that make fitness accessible in this digital age. You don't even need fancy equipment—with just some bands, dumbbells, or your body weight, you can work up a sweat wherever and whenever you please.
It's never been easier to find an at-home workout solution to suit your fitness goals and schedule, so let's explore four of the best.
1.      YouTube
YouTube is an incredible platform for stepping up your at-home workouts. It's an unparalleled resource because it's a video hosting service that allows anyone to upload, view, and share videos. Best of all—it's free! No gym fees and no personal trainer needed.
You can find at-home workout videos for every fitness level and exercise preference on YouTube. Whether you're looking to do an intense cardio workout, hard-core HIIT routine, bodyweight training, or fit in a quick but relaxing yoga session, there's something for everyone.
With such variety, YouTube is ideal for people who've found themselves in a fitness rut. Even scrolling through the thousands of videos is a workout in itself!
Here are five of our favorite workout channels to check out:
Madfit: Low impact, full-body workouts that require no equipment.
Yoga with Adriene: You'll find everything from basic, foundational classes to power flow classes.
Orangetheory: No frills daily videos that teach proper exercise form.
Pop Sugar Fitness: Hip-hop to Zumba to kickboxing, with new videos daily.
Body Building: If you want to build strength, this channel can help sculpt your body.
2.      Obé Fitness
Obé is a unique fitness app combined with an immersive digital community that's more than just a fitness service.
You can choose from a vast range of prerecorded or live workout programs from Sweat, Define, and Flow categories.  Sweat routines are based on cardio and may include HIIT, cardio boxing, or dance classes.
Choose the Define category with sessions ranging from pilates, toning routines, and full-body workouts if you want to build strength. Lastly, Flow is a set of yoga and stretch classes to help with flexibility and building muscle.
No matter which at-home workout you choose, you'll find upbeat music, enjoyable routines, and an impressive amount of variety.
Obé costs $27 per month, $65 per quarter, or $199 per year. With your Obé membership, you can choose from 20 live classes daily and over 6000 on-demand workouts that you can access round-the-clock on your TV, laptop, or phone, so no matter what's happening in your life, you can fit in some fitness.
3.      Peloton
Perhaps the idea of traditional workout programs doesn't appeal, and you're looking for a new way to exercise. If you want an intense, low-impact activity to fit around your schedule and you enjoy the camaraderie of spin classes, Peloton may be ideal for you.
Originally, Peloton was an at-home exercise bike that featured a large touchscreen and speakers, which allowed you to access thousands of online classes through all-access membership. The company has been so successful that they now also offer a treadmill with an app you can access on a phone or tablet. Plus, there's a robust music library to suit all tastes and motivate you during virtual cycle rides.
Peloton bikes start at around $2000 and treadmills at $2500. The all-access membership also costs an additional $39 a month.
4.      NEOU
NEOU has dubbed itself the Netflix of fitness. It's a unique exercise and wellness platform that provides live and on-demand at-home workouts from top fitness trainers, influences, and brands. NEOU strives to make you feel like you're in a class with a trainer and not the on-call room!
There are lessons from yoga to boxing, dance cardio to mobility, and everything in between. The app has a boutique gym feel as their workouts are filmed at studios across the country.
You don't have to pay a monthly fee with NEOU. Instead, it's an affordable $50 a year. If you've got children, NEOU has just launched NEO kids aimed at little ones aged 6 to 12 and costs $8.25 a month.