Specialty Spotlight: Hospitalist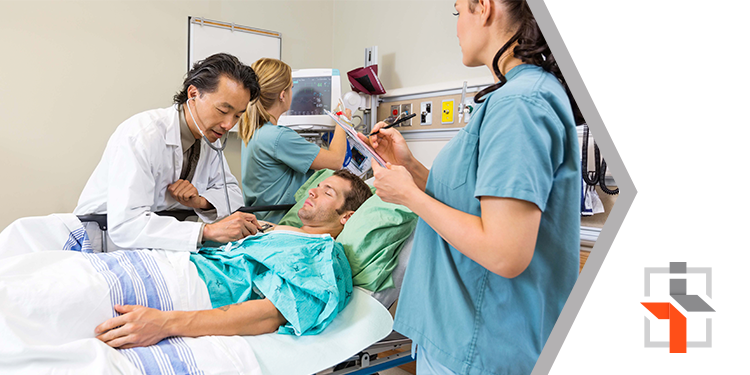 There are over 6,000 hospitals in the United States, representing almost 1 million staffed beds. Medical teams across the country provide care for the 33 million hospital admissions annually.
With staggering figures like these, it's no wonder the demand for hospitalists has been rising in recent years. A hospitalist is a physician who specializes in the care of hospitalized patients. These doctors play an important role in coordinating a patient's care from admission to discharge.
In this Specialty Spotlight, we explore the hospitalist specialty and highlight some of the key reasons why this growing field is an attractive option for many physicians.
What is a hospitalist?
A hospitalist is a licensed physician who practices hospital medicine. They provide comprehensive care to hospitalized patients and treat a wide range of conditions and diseases. As specialties go, it's relatively new, and the term 'hospitalist' was first coined in 1996.
Hospital medicine developed because of the increasingly complicated nature of inpatient care and the need for dedicated care management. Traditionally, hospitalized patients were cared for by clinicians seeing numerous ambulatory patients and with other clinical obligations. However, this restricted the time they had to dedicate to hospitalized patients, which ultimately led to poorer care quality and patient outcomes.
With the hospitalist model of care, physicians can focus their practice on providing efficient, around-the-clock specialized care to a specific group of patients in a hospital setting. The discipline has expanded as surgical and other cases become more complex.
Research has shown that hospitalists can reduce the length and cost of hospital stays and the rate of readmissions.
Hospitalists serve as generalists, meaning they can address patients' medical needs regardless of their condition. However, some physicians choose to further focus their practice, for example, by caring for critically ill individuals or those with specific conditions or needs.
There are various models of hospital medicine. For example, hospitalists may work a pattern of 2 weeks on, 2 weeks off. Working in this manner allows for continuity of patient care while balancing the physician's need to decompress from their intense practice. However, there are numerous variations and working practices depending on the setting.
How to become a hospitalist?
Physicians who intend to become hospitalists must complete a 4-year bachelor's degree, followed by 4 years of medical school. Once they hold a medical degree, candidates must complete several years of graduate medical education (GME). Typically, this includes a 1-year internship, followed by 3 years of residency training. Most hospitalists undergo residency training in general internal medicine, general pediatrics, or family practice.
There are residency programs that include the primary aspects of hospital medicine, such as continuity of care from inpatient to outpatient and quality assessment/quality improvement (QA/QI).
In 2009, the American Board of Hospital Medicine (ABHM) was founded, which is part of the American Board of Physician Specialties (ABPS). The board's founding meant that hospital medicine was no longer a subspecialty of internal medicine, and physicians could become board certified as hospitalists.
What does a hospitalist do?
Hospitalists are critical parts of the hospital system and are responsible for tracking, measuring, and improving patient care quality. However, their roles center around patients' needs and are not involved in any financial or organizational administration.
The hospitalist takes over and coordinates all aspects of their patients' care. Although other doctors and nurses are involved, the hospitalist is the primary point of communication. They are also responsible for relaying information to the patient, their family, and other relevant parties.
Locums Hospitalist salary
Hospitalists earn an average of $150 per hour working locum tenens.
Find hospitalist jobs with Integrity Locums
Integrity Locums specializes in connecting physicians and APPs with the best opportunities in hospital medicine assignments. We work with some of the top facilities across the United States, and we're here to find high-caliber individuals their ideal positions.
We understand the importance of finding the right assignment, so we take the time to get to know you and your preferences. Then, we'll work with you to find a hospitalist assignment that meets your needs, whether in a rural area or a major metropolitan center.
Contact Integrity Locums, and we'll draw on our experience and connections to find you the perfect locum tenens role.