Electronic Medical Record Systems (EMR)— What Locum Doctors Need to Know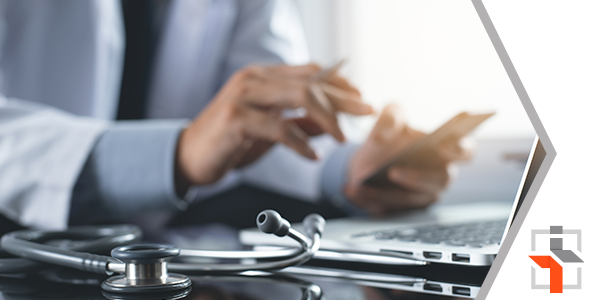 Electronic medical record (EMR) systems are very common in healthcare organizations and will be the preferred method of managing patient information in the future. They're designed to improve the quality and efficiency of patient care by allowing clinicians to track patient diagnoses, medications, and treatment plans electronically.
While EMRs offer many benefits, they can also present challenges for locum doctors unfamiliar with their operation. As a locum doctor, it's important to remain current on the different types of EMR systems that facilities use, how to use them, and the potential implications they may have on patient care.
Because EMRs are now used in most hospitals across the United States, you'll likely encounter one or more versions during your locum tenens assignments. Continue reading as we provide an overview and explain what locum doctors and advanced practice providers need to know about these systems.
What is an EMR?
In basic terms, an electronic medical record is a digital version of a patient's paper chart. They typically include the same information as traditional charts, such as a patient's medical history, diagnoses, medications, immunization records, lab results, and radiology images. However, they have many advantages over paper records. EMRs allow healthcare providers to:
Access real-time patient records from any location with an internet connection
Easily share patient records with other physicians and specialists
Quickly and easily update patients' diagnoses, medications, and treatment plans
Track changes made to patient records over time
Generate reports on trends in patient care
In addition, EMRs can improve the quality of patient care by reducing medication errors, improving coordination between physicians, and providing patients with online access to their records.
However, EMRs also have some potential disadvantages. For example, it can be time-consuming to input data correctly and completely, potentially interfering with other aspects of patient care.
Additionally, EMRs can be expensive to implement and maintain. They also require a significant investment of time and resources to get up and running, meaning there can be significant issues if used incorrectly.
What are some of the most common EMR systems?
There are many different EMR systems on the market, but some of the most common ones used in healthcare organizations include the following:
Epic
Epic is one of the most popular and long-standing EMR and electronic health record (EHR) solutions in the healthcare marketplace. The company prides itself on innovation and technology, which is why Epic is used by some of the largest healthcare organizations in the world.
Epic provides a complete suite of tools to manage patient records, write prescriptions, place orders, and document encounters. The system also offers robust reporting capabilities and population health management tools.
Overall, Epic is a feature-rich EMR system with many advantages.
Cerner
Cerner is another major EMR vendor that provides a cloud-based platform for managing patient health information. It caters to health organizations of various sizes, enabling them to streamline their operations and improve patient care.
The system offers charting, documentation, revenue management, and health analytics. Together, these capabilities provide a comprehensive solution for tracking and managing patient records.
Because Cerner covers more than 40 specialties and has task automation and straightforward recording, it allows clinicians to focus more on patients. As a result, they can increase patient numbers without sacrificing the quality of care.
Allscripts
Allscripts offers a comprehensive suite of applications and resources to support clinicians. There are workflows, access charts, search records, place orders, and e-prescribe from a single location. In addition, the software harnesses artificial intelligence to optimize results and improve searches.
EMRs from Allscripts is recognized by the American Medical Association for user-centered design best practices.
The benefits of learning EMR technologies in locum tenens work
As a locum clinician, being familiar with various EMR systems makes you more marketable to potential employers. Many healthcare organizations require candidates who are comfortable using EMRs, so having this skill gives you a competitive edge.
In addition, learning how to use EMRs can make your locums work more efficiently. You'll be able to quickly access patient records and update them as needed. This saves time when caring for patients and ensures the most recent information is available.
Overall, having experience with EMRs benefits both you and the healthcare facilities you work with. It can make your work more efficient, improve the quality of care you provide, and make you stand out as a locum candidate.