A Complete Guide to The Interstate Medical Licensure Compact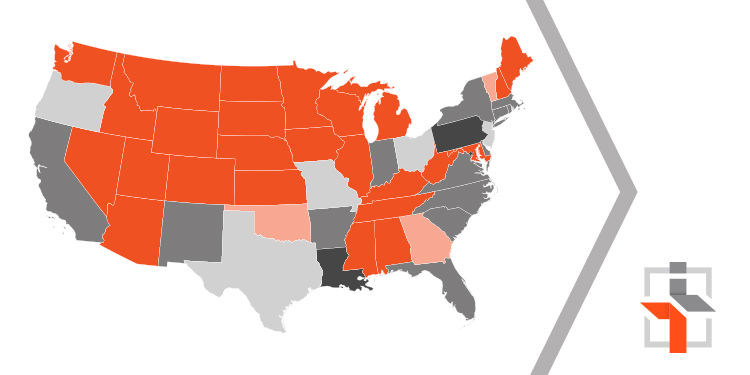 If you are a physician looking for ways to grow and develop your career, then the Interstate Medical License Compact is something with which you need to be familiar.
As a physician, you typically start with one active state license when you begin your career. If you find work as a locum tenens provider in another state, you'll need a medical license in that state as well. Historically, applying for licensure is a daunting and expensive task.
Thankfully, since 2017 the Interstate Medical Licensure Compact has provided a workable solution for physicians who want to practice in multiple states.
What is the Interstate Medical Licensure Compact?
The Interstate Medical Licensure Compact (IMLC) is legislation that speeds up multi-state physician licensing.
Several states work together under this legal agreement to simplify medical licensing. If a physician holds a primary license in one of the participating U.S. states, then the process of obtaining a license in another member state is straightforward.
The IMLC does not change a state's Medical Practice Act. Instead, it is another pathway for licensure which aims to reduce physician shortages and improve patient access to care.
Where does the IMLC operate?
There are currently 25 participating IMLC states and one territory that serve as States of Principle Licensure and issue multi-state licenses:
Alabama
Arizona
Colorado
Guam
Idaho
Illinois
Iowa
Kansas
Kentucky
Maine
Maryland
Michigan
Minnesota
Mississippi
Montana
Nebraska
Nevada
New Hampshire
North Dakota
South Dakota
Tennessee
Utah
West Virginia
Wisconsin
Wyoming
Washington
The three states of Georgia, Oklahoma, and Vermont are not States of Principal Licensure. This means that you cannot enter the Compact if you have a GA, OK, or VT license as your primary license.
However, you can obtain a license for these three states through the Compact once you have entered through another State of Principal Licensure.
Louisiana, Pennsylvania, and the District of Columbia have agreed to the IMLC. However, the implementation is delayed or in process.
The states of Missouri, New Jersey, Ohio, Oregon, and Texas have introduced the legislation for consideration.
Other states, including New York, are poised to join the IMLC soon.
When did the Interstate Medical Licensure Compact originate?
In the past decade, telemedicine and other virtual technologies that allow patients in underserved and rural areas to access health care have grown exponentially. It became increasingly commonplace for physicians to use telemedicine to reach patients in multiple states.
The idea of the IMLC began in 2013 in response to these advances beyond traditional health care. State medical boards started to discuss creating a streamlined licensure agreement that would help both patients and physicians who wanted to expand their practice.
Additionally, the normalization of the gig economy and the growth of locum tenens opportunities further drives the need for state licensure cooperation.
Why do we need the Interstate Medical Licensure Compact?
Before the IMLC became active in 2017, physicians would need to apply for a separate state medical license in each state where they wanted to practice medicine. This was a time-consuming process, and some of the state medical or osteopathic boards made it challenging to expand services across state lines.
You may see the Compact referred to as the Telemedicine Licensure Compact because it helps physicians open their practice and deliver virtual medicine to new patients across participating states.
The IMLC means that experienced physicians in good professional standing can easily apply for and receive licenses in states other than their primary state.
Who does the IMLC serve?
Physicians who wish to connect to patients across state lines through locum tenens work on contract assignments or virtually through telemedicine benefit from the IMLC.
How does the Interstate Medical Licensure Compact operate?
An eligible physician designates a member state as their State of Principal Licensure (SPL) and submits a single application to the state medical board. Once the SPL verifies the physician's credentials and eligibility, they send a letter of qualification (LOQ) to the IMLC Commission.
The physician can then select the states where they wish to apply for a medical license. The IMLC Commission forwards the LOQ and fees to the individual state boards. The Compact fee is $700 in addition to the state(s) license fee.
Once the application is accepted, the physician receives licenses issued by each state where they intend to practice. Because there is only one application, the process is much more efficient, and there are fewer obstacles.
As with the traditional process, the licensing remains state-based. There is no specific IMLC license, nor is there a singular nationally recognized medical license. According to the IMLC Commission, around 80% of U.S. physicians meet the qualifying criteria for licensure through the Compact.
The benefits of the IMLC.
The IMLC is exciting legislation that eases the laborious application process of state medical licensing. It helps physicians offer care to those who need it the most, addresses issues of clinician shortages and provides exciting career opportunities through locum tenens positions and virtual health services.