5 Tips for Building the Perfect Locum Tenens CV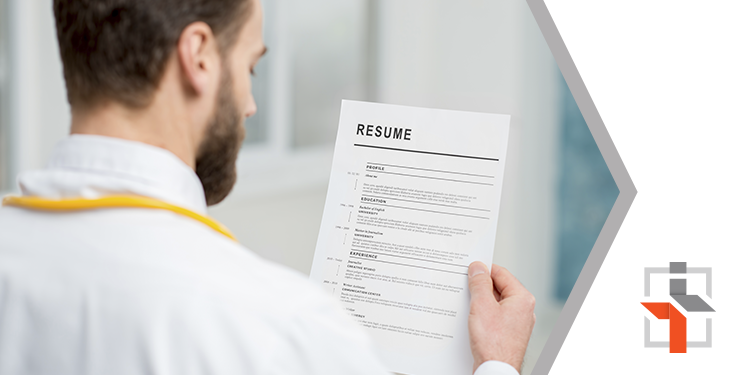 Whether you're a fresh graduate or an experienced physician, building the perfect locum CV for your ideal assignments can be challenging.
You're typically competing with other physicians for desirable locum tenens jobs,  so it's essential to showcase your skills and qualifications to make yourself stand out while still being concise and easy to read. It's a balancing act, but with a little planning and organization, your CV can be a step above the rest.
There's a world of difference between the CV of a doctor or advanced practitioner (APP) to those of other skilled professionals. Therefore, for optimal results, you need advice tailored to the medical industry that can help you take advantage of the unique aspects of your experience and qualifications. With the correct approach, you can secure a locum tenens assignment that perfectly aligns with your skills and objectives.
In this article, we'll outline 5  tips for building the ultimate locum tenens CV.
1.     Maintain your locum tenens CV
One of the most important tips for CV writing is to keep it current. As a locum, you'll likely have a lot of experience and assignments that you need to add each year. The best way to stay organized and ensure you capture all your recent accomplishments is to review your CV as soon as you have new information to add. This might be as you finish an assignment, receive a new license, or obtain (or renew) your certification. Editing your CV as you go means that you don't forget critical details or have many revisions to make.
When your CV is up to date and ready to go, you increase your chances of landing assignments with an urgent deadline. If your consultant needs to wait to receive your CV, you could miss out.
2.     Include all necessary information in the correct order
It might seem obvious, but it's crucial to cover the critical information that potential employers need in an order that emphasizes the most important details.
Include basic details first and list your specialty directly under your name so that it's immediately discernable. Although you may think it's clear from your educational details, you should make it as easy as possible for the reader to find.
Also, ensure that phone numbers and email addresses are the most accessible for communication, and you can be reached easily.
In the main body of your CV, include your education, residency, and fellowships using reverse chronological order. Then board certifications and licenses, including any that are pending. These details are consistently top of employers' lists of questions, so be sure to answer them upfront.
Then follow this with your skills and practical experience or employment history. It can also help the facility make a quicker decision if you include details about the scope of procedures you're comfortable with.
You should save your publications and any academic positions for the end of your locum tenens CV.
3.     Keep it concise
One of the main challenges of a locum tenens CV is to include all your relevant experience and skills without making it seem cluttered or overwhelming.
Your CV should be a maximum of 3 pages long, with plenty of white space for easy reading. If you have to cut content, make sure that the most important details are still included and only include relevant information to your desired locum assignments.
When listing your experience or locum tenens assignments, you don't need to write lengthy descriptions of your duties and responsibilities. Instead, include the employer's name, your title or position, location, and dates. If you had employment outside the medical industry, you could list this briefly under a separate heading.
Space permitting, you could include sections including:
Leadership
Awards
Professional affiliations and memberships
Additional skills
4.     Format your locum tenens CV correctly
You must format your locum tenens CV correctly, as it makes a difference in how easy it is for potential employers to read and understand the information.
Use simple, clear fonts and generous white space to make it easy on the eye. Stick to a traditional font like Times New Roman, Arial, or Calibri in size 12. Use bullets instead of paragraphs wherever possible.
Additionally, use headings and subheadings to break up the information and make it effortless to scan. You can also bold or italicize key words and phrases for emphasis.
It's also a wise precaution to double-check ideal format practices for each facility with your consultant, as some facilities prefer the MM/YYYY date format.
5.     Final checks
Don't forget the finishing touches and ensure your locum tenens CV is free of spelling and grammatical errors. A great tip is to read your CV aloud which can help you spot typos or errors more easily.
A polished, attractive CV containing all necessary information will make a good first impression on potential employers and could help you land the locum tenens job of your dreams!