4 Benefits of the Interstate Medical Licensure Compact for Physicians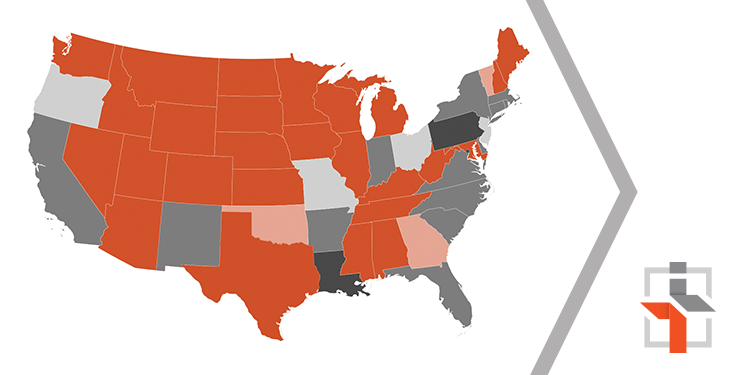 The Interstate Medical Licensure Compact (IMLC) is a major breakthrough for physicians, allowing for greater flexibility and opportunity. It has the potential to revolutionize the healthcare industry by making it easier and faster for doctors to provide care across state lines — in person or via telemedicine.
Through the IMLC, physicians can work with larger patient populations across multiple states and pursue specialized training opportunities in another state if needed, without worrying about an extensive waiting period for a new license first.
Continue reading as we explore the IMLC and 4  of the primary benefits for physicians.
What is the Interstate Medical Licensure Compact?
The IMLC is an agreement among 37 states, the District of Columbia, and the Territory of Guam that streamlines licensing. A physician licensed in an IMLC State of Principal Licensure (SPL) needs only complete one centralized application and can then receive separate licenses from each member state where they wish to practice.
The goal of the IMLC is to reduce the time and cost associated with obtaining multiple licenses. As a result, physicians can obtain multiple licenses in days or weeks rather than months.
How it works
As the number of IMLC member states expands, increasing numbers of physicians are eligible to apply for medical licensure through the pact. To qualify for IMLC, you must be board-certified and hold a medical license in a member state, which serves as your State of Principal License (SPL). You must also reside, work, or pay tax in the SPL.
If you're eligible, you'll need to submit an application form and pay the fee. You'll then receive a letter of qualification (LOQ) valid for 12 months. With the LOQ, you can select the states where you require licensure, and they should be issued promptly.
IMLC benefits for physicians
The IMLC provides numerous advantages for doctors. Here are four of the primary benefits:
Increases flexibility
The IMLC eliminates obstacles previously hindering physicians from practicing in multiple states. As a result, it increases physicians' flexibility and allows them to pursue different opportunities easily.
Makes you more competitive in your job search
The IMLC dramatically expands a physician's potential patient population. For example, if you're located near a state border, you can now start seeing patients from both states — something that wasn't possible before.
Employers often prefer hiring physicians with multiple licenses, so having the IMLC can make you a more attractive job candidate and give you a competitive edge. It's also advantageous when considering new positions in another state, as you can begin your job search without worrying about the length of time it takes to obtain a new license.
Broadens your horizons
The IMLC unlocks the door to possibilities. It can grant you access to experiences that would have otherwise been unattainable or problematic because of licensing restrictions.
It's particularly valuable to those interested in pursuing locum tenens assignments. You can now explore new training opportunities in other states, work with underserved populations in remote areas, join different healthcare systems, and expand your network in facilities nationwide without worrying about the challenges it takes to obtain a new license. With the IMLC, you can explore opportunities across state lines and broaden your horizons.
The IMLC streamlines medical licensure
If you're a physician interested in practicing across different states, the IMLC is a great option that can save you time and money.
It eliminates many of the obstacles associated with obtaining multiple licenses. It also provides numerous benefits for physicians, such as increased flexibility, improved competitiveness, and greater opportunities for career growth.
If you'd like to learn more about the IMLC as a locum tenens doctor, contact Integrity Locums for resources and guidance.