Top 4 Places to Take a Locums Tenens Assignment if You Love Fall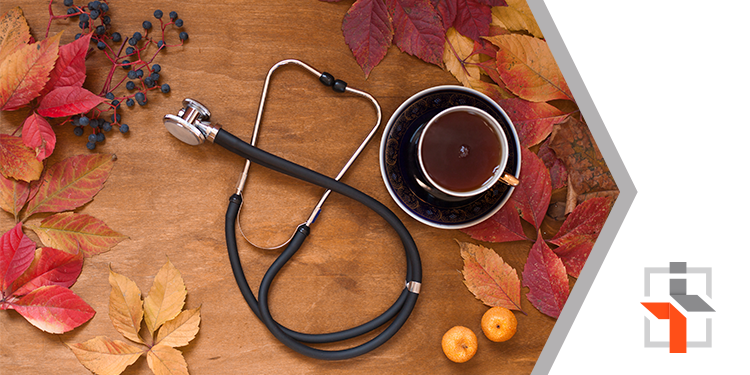 Fall is one of the most beloved seasons, and for good reason! The crisp temperatures, brilliantly colored leaves, fun festivals, and tasty treats make fall one of the most enjoyable times of the year.
Locum tenens work provides an opportunity for physicians to take assignments in some of the most beautiful places in the country. You can choose a position that allows you to expand your skill set, earn great money, and explore a new location while the leaves change and the weather cools.
Whether you're looking for a quiet retreat or want to be surrounded by autumn festivities, these four destinations are sure to please. So grab a pumpkin spice latte and prepare to explore!
New York State
New York City is a befitting place for your next locum tenens assignment if you love hustle and bustle. This vibrant metropolis comes alive in autumn with farmers' markets selling seasonal produce, leaves changing color in Central Park, and Halloween decorations adorning every storefront.
You can enjoy the Wine & Food Festival and sample delicious fall dishes like pumpkin ravioli, roasted Brussels sprouts, and apple cider donuts. There are also events like the New York City Marathon and Macy's Thanksgiving Day Parade. And, of course, no trip to NYC is complete without a visit to the top of the Empire State Building for a bird's eye view of the fall foliage.
Plus, as one of the largest healthcare markets in the country, NYC offers plenty of locum tenens opportunities for physicians in all specialties.
If city life isn't your style, head to upstate New York, where you'll find small towns, picturesque countryside, and some of the best fall foliage in the country, as well as countless activities and attractions. The Adirondacks are a popular destination for leaf peepers, with towering mountains and vivid red, orange, and yellow trees.
The Catskills offer a more relaxed vibe with historical villages, while the Hudson Valley is ideal for wine lovers with its many vineyards and wineries.
There are also numerous state parks, hiking trails, and lakes to explore, plus festivals like the Syracuse Pumpkinfest and the Ithaca Apple Harvest Festival.
With so much to see and do, it's no wonder New York State is a popular destination for locum tenens physicians looking for a change of pace.
Find locum tenens assignments in New York
Maine
Maine is a picturesque state known for its rocky coastline, quaint towns, and of course, lobster. But Maine is also a great place to enjoy the autumn season with its many hiking trails, apple orchards, and pumpkin patches.
Acadia National Park is a must-see with its rocky cliffs, wooded hiking trails, and ocean views. You can also drive along the Coast of Maine to see the changing leaves and stop at one of the many lobster shacks for a bite to eat.
Portland is a charming city with cobblestone streets, art galleries, and trendy restaurants. And for a taste of small-town life, check out Freeport with its outlet stores and antique shops.
Whether you're looking to explore the great outdoors or want to enjoy some of the best seafood in the country, Maine is the perfect place for your next locum tenens assignment.
Find locum tenens assignments in Maine
Colorado
The Rocky Mountain state is a playground for hiking, biking, and skiing with its many mountain towns and scenic trails.
Aspen is a popular destination for both winter and fall with its world-renowned ski resort and luxury shopping. Then there are the nearby Maroon Bells, two majestic peaks surrounded by aspen trees and vibrant red bushes.
Breckenridge is another top choice for skiers and snowboarders, while Denver offers a more urban setting with contemporary restaurants, art galleries, and lively nightlife.
Colorado is the ideal location for locum tenens physicians and APPs who love the outdoors and want to enjoy some of the best skiing and snowboarding in the country.
Find locum tenens assignments in Colorado
Massachusetts
Home to some of the best hospitals in the country, the Bay State is a great place to be during the fall with its many apple orchards and pumpkin farms. You can explore small towns, enjoy breathtaking hikes, and sample delicious New England cuisine.
Boston is a popular city to visit with its many historical landmarks, including the Freedom Trail and Fenway Park. And why not stroll through Quincy Market for some shopping and people-watching?
Cape Cod is a top destination for beach lovers with its sandy beaches and quaint towns. And for a taste of small-town life, head to the Berkshires, where you can enjoy hiking, biking, and fishing.
There are also many festivals and events held throughout the state, including the Salem Halloween Festival and the Cranberry Harvest Celebration.
With so much to see and do, Massachusetts is a great choice for locum tenens physicians and APPs looking for a change of scenery.