Dr. Droid Robot Strikes Out On its Own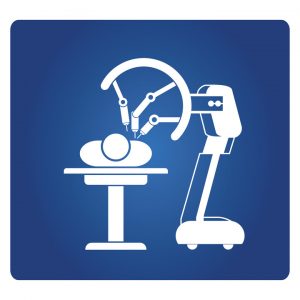 Robotic surgery, or robot-assisted surgery, gives doctors the ability to precisely perform many types of complex procedures, with more accurate flexibility and control than has been available through traditional methods. Robotic surgery is has most often been associated with minimally invasive surgery, although it is also utilized in some conventional open surgical procedures. Robotic surgery gained ground in the year 2000 when the da Vinci system was approved for use; and has subsequently been quickly accepted for use in a wide variety of situations. The system, not without flaws, is still nonetheless employed by approximately 25% of U.S. hospitals. da Vinci includes both a camera arm and mechanical arms with attached surgical instruments. The surgeon manipulates the arms while seated at a computer console near the operating table, and the console provides a high-definition, magnified, 3-D view of the surgical site.
However a recently announced advancement in robotic technology, introduced by a team led by Dr. Peter Kim of Children's National Medical Center, is changing the game. The new robotic system, called Smart Tissue Autonomous Robot (STAR) can autonomously perform the procedure once programmed. It features near-infrared fluorescent lighting and a battery of cameras to assist it in "seeing" what it is doing — for the first time, not requiring human eyesight to do it's job. A portion of STARs software includes techniques from leading surgeons, the team said..
Although not quite ready for widespread use, it is clear that this new technology has the ability to perform complicated surgery on par with human surgeons; and in some cases which require precise consistency, the robot is better suited.  As reported in the the Science Translational Medicine journal, it is slower than some methods, but more accurate – able to turn out consistent, evenly spaced, well tensioned sutures in delicate tissue.
Team leader Kim compared the technology to self-driving cars. "You have driverless cars coming into our lives; it starts with self-parking and now you have the technology that tells you not go to into wrong lanes." Within the next couple years, Kim expects that surgical tools will become smarter, able to inform and work with surgeons and seeing more positive results.
As to the current version of STAR, Kim said, "In some cases, the machine does it better."